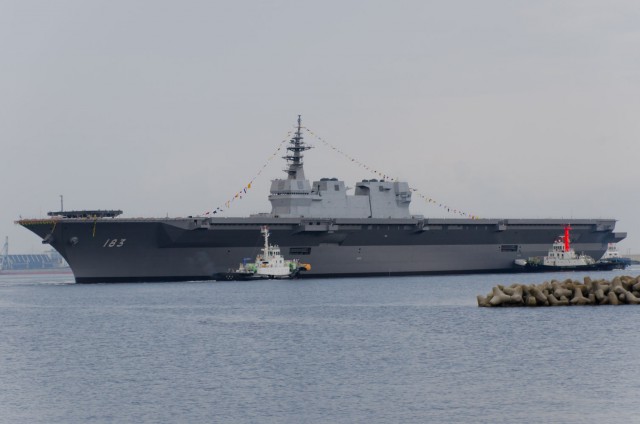 [Via]
The Japanese military has launched a new helicopter destroyer to add to its naval fleet. The ship is the second Izumo-class helicopter carrier.
The ship is the largest Japan's military has built since the days of World War Two. It is 24,000 tonnes and has been named Kaga. It was launched at the Marine United shipyard in Yokohama and is expected to be ready for service in two years' time.
Kaga comes from the district in Japan which moored an aircraft carrier that took part in the bombing of Pearl Harbour during the war. The original ship was destroyed during the battle of Midway.
Japan's navy launched an Izumo-class carrier two years ago called the JS Izumo, but its dimensions are slightly different to the Kaga. The Kaga is expected to also be fitted with Raytheon Sea RAM RIM-116 systems and Mk 15 Vulcan Phalanx weapons systems.
The Kaga is similar to an aircraft carrier, but instead of aircraft it is specially fitted to house helicopters. It can hold up to 14 and is equipped for anti-submarine attack and counter-mine defences.
Many existing helicopter carriers are designed and built on a smaller scale, so the Kaga could accommodate a vertical take-off area if needed. Some commentators are suggesting that its primary purpose is so that Japan has the capabilities for action against China. While some Japanese military officials have inferred that there is a need to equip the military with the capabilities to defend themselves against Chinese submarine attack.
On the other hand, the military says that the carrier will also be used for peace time service for rescue operations and to support during natural disasters. This is particularly important in the region, since it is often hit with typhoons, The Diplomat reports.
The Kaga gives the Japanese the option to expand its air fleet and can support short distance exercises. Most believe that it is a sign of power from Japan, making a statement about the country's ability to defend itself.
The Kaga will be the fourth helicopter carrier to join the Japanese naval fleet.