"War is madness"…
These were the words of Pope Francis when he spoke at Italy's biggest war memorial in Redipuglia. The pontiff also pointed out that even after the two great wars, with all the conflicts happening all around the globe, the Third World War may just be around the corner.
A Look at the Past
The visit Pope Francis made to the Redipuglia cemetery and memorial – where 100,000 Italian soldiers who lost their lives during the Great War lay, some 60,000 unnamed – is much more than a social call or the commemoration of the century-old conflict. Reportedly, the pontiff's grandfather had fought in some of the Great war's fiercest battles. Fortunately, Giovanni Bergoglio lived to tell the tale. But his painful war experiences had shaped the distaste his grandson has for wars.
Reports state that Pope Francis visited the site and held an open-air mass in the area to pay homage to the sacrifices his grandfather and the countless others involved in the First World War did.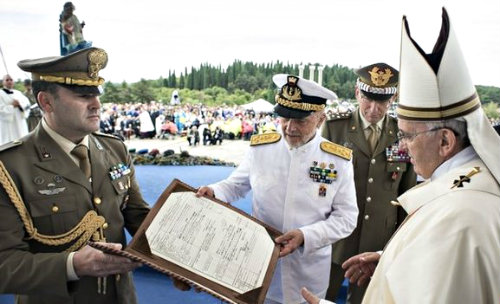 Time to Weep
Not only did Pope Francis paid tribute to the victims of all the wars that occurred throughout history. He also pointed out that it may be time for humanity to weep as WWIII seem to be just lurking in the corner with all the national conflicts, the crimes, massacres and general destruction happening recently.
It was just last month that Pope Francis condemned the "unjust aggression" of the militants of the Islamic State which still continues to displace thousands of innocent civilians in Iraq and Syria, including countless Christians. He even stated that the international community would be vindicated would it resort to using force to stop it.
The past months also saw the pope calling for the end of all existing tensions within Ukraine, Syria, Gaza, Iraq and even in some parts of Africa.
Before he spoke in last September 13's homily while at the foot of the WWI memorial, Pope Francis had earlier visited an Austro-Hungarian cemetery, laid a wreath and said a prayer while standing among the gravestones of soldiers who died during the Great War.