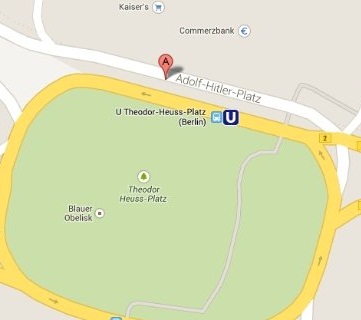 Google Maps, the online mapping service powered by Google, has mislabeled a square in central Berlin reverting its present name into its WWII name.
The internet blunder happened evening of January 9. Everyone using Google Maps services noticed that the mapping service renamed the currently named Theodor-Heuss-Platz or Theodor Heuss Square located in Berlin's western Charlotten district to its name way back in 1933 up to 1945 which is Adolf-Hitler-Platz or Adolf Hitler Square.
However, when contacted by B.Z., the German daily newspaper which first reported about the account, Google couldn't point out the reason behind the mislabeling. Nevertheless, a Google representative stated that the company is looking over the matter. By 9 PM Thursday, the matter had been solved and the square is back to its current name.
The said square was initially named Reichskanzlerplatz when it was built way back in the early 1900s. It was then renamed Adolf-Hitler-Platz in April 1933 and had carried that until the Nazis got defeated in WWII. Its name was reverted back to its original name from 1947 to 1963 until that was changed – the square was renamed after German's first federal president Theodor Heuss.
– Spiegel Online International reports