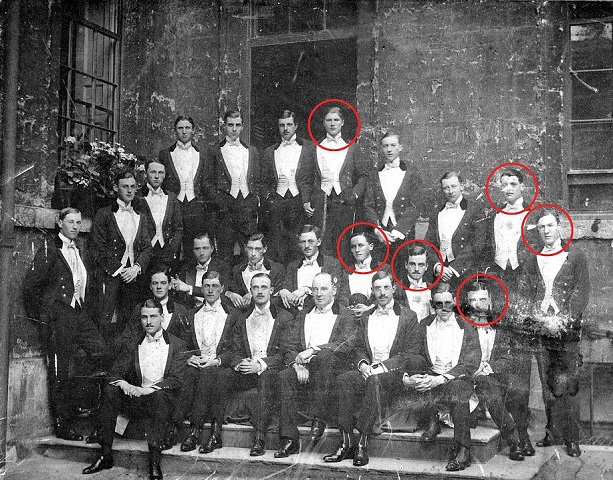 The Bullingdon Club was a group of young and privileged men. Hailing from Oxford University, these young men all had bright futures ahead of them. Unfortunately, many of those futures were stamped out by the approach of war in 1914. Out of twenty-four members, half a dozen of them would not live to see the end of the fighting. While the rest of the Bullingdon Club survived, their lives were forever changed by their participation in the Great War.
Before the war started, the young men who gained membership in the not-so-secret society were generally in high spirits. This can be taken two ways, as they imbibed a number of spirits in their day and were often known for somewhat rowdy behavior. Even so, with their status as members of the Bullingdon Club as well as the general status that often accompanies great wealth, they received a great deal of respect. Some of their members held onto this air of respect as they marched off to the sound of drums, and eight of the survivors went on to win the esteemed Military Cross. Even so, the war took them all on a much different path than that toward which they had been heading, the Mail Online reports.
The original group was formed long before the war, although its members were in constant flux as time went on. At the time of their foundation in 1780, they were known for the same rowdy behavior that would continue as the Bullingdon Club encompassed future generations. They are still around today, and even Prime Minister David Cameron has had a spot among their previous membership.
Many of those who survived did go on to pursue the futures that had been in store for them from the beginning. They rose to such ranks as MPs and Cabinet secretaries. Other members of the Bullingdon Club pursued careers that might never have been offered to them if not for their time in the service. Some became high-ranking military officers, and at least one, Johnny Bevan, even joined up with MI5 and continued to serve during the Second World War.
The Bullingdon Club allowed men with bright futures to act as if there were no tomorrow. Unfortunately, for some of them there truly wasn't. Those who did survive managed to lead the best lives they possibly could. Many of them were humbled by their experiences, and continued to serve their countrymen in ways they might never have considered if not for WWI. Although the war was a truly tragic circumstance, it is possible that it inadvertently created one of the most humble and generous installments of the Bullingdon Club who ever lived.