The controversial Nazi-themed SoldatenKaffe – The Soldier's Cafe – in Indonesia has once again opened its doors last June 21 after almost a year of being out of business.
It can be remembered that SoldatenKaffe stirred anger and condemnation in the international scene due to the way it was decorated — Nazi insignia were all over the place.
The SoldatenKaffe was in business for over three years before it was brought into the limelight by several press people from around the world. Its exposure resulted to a loud cry of outrage internationally, most from various Jewish organizations, condemning the cafe of glorifying the notorious Nazi party and its equally notorious leader, Adolf Hitler.
However, these cries were not the ones which prompted cafe owner Henry Mulyana to decide in closing down SoldatenKaffe. According to him, his decision was due to the several death threats he had been receiving.
Mr. Mulayan in an interview almost a year ago even said that if the cafe does reopen, he would take down the swastikas and other Nazi insignia which were all over SoldatenKaffe.
Nevertheless, the owner looked like he has backed down from his words upon its reopening. The Hitler quote prominently displayed on one of the walls within SoldatenKaffe had not been taken down as well as the prominent painting of the German dictator. Additionally, Nazi insignia can still be seen prominently displayed throughout the establishment. There are, however, some additions. SoldatenKaffe now features uniforms worn by the Allies. Hitler's painting also gained several new neighbor pictures — that of British WWII Prime Minister Winston Churchill and Russian dictator who also was a prominent figure during WWII Josef Stalin.
A press conference was held before SoldatenKaffe formally reopened that Saturday with its new owners. During the event, the cafe's spokesman issued the plea not to judge the cafe. Cafe owner Henry Mulyana added that he was only interested in WWII history and SoldatenKaffe was not put up to glorify the Nazis nor push their ideologies through.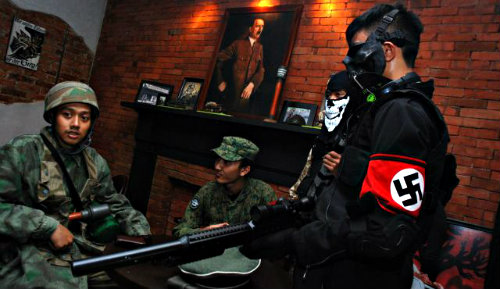 SoldatenKaffe is located in Bandung, the provincial capital of West Java. It was named after a very popular cafe in Paris which German soldiers frequented during the Second World War.