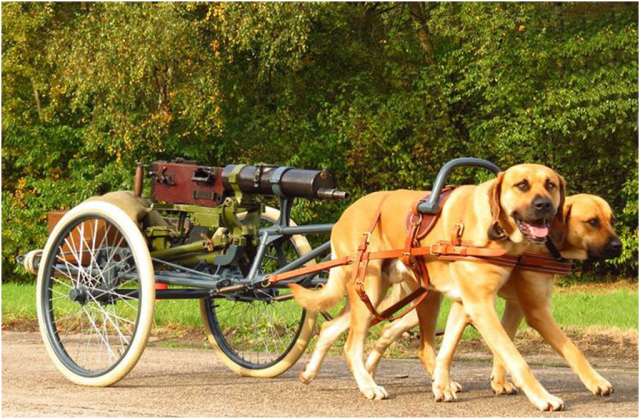 In the run-up to 2014, the memorial year of the outbreak of WWI, the Belgian living history group 'De Patrouilleurs' have re-created an icon from the war's early days.
A military dogcart with a mount for a Maxim machine gun was reproduced based on old pictures and an original undercarriage from the Belgian Royal Museum of the Army.
In the early days of WWI, these military dog carts attracted the attention of the international press.
This in expensive and efficient transport system made a strong impression a broad because pack dogs were only used in our Low Countries, and therefore, only in our army.
Other countries, among which Great Britain and France, experimented with pack dogs pulling machineguns, but they were never as successful with their dogs as the Belgians were.
Two original military dog carts have survived, but they are only of the ammunition transport version.
The types that were carrying the Maxim machine gun all disappeared at some point in the 1920s.
Based on the surviving transport version and with the help of old pictures, an identical replica was built by Peter Cochez, who was responsible for the metalwork, and Roger Louage, who took care of the leatherwork.
After four months of intense work using traditional methods, the end result was recently tested in the artillery museum of Brasschaat with the support of the non-profit organization V.Z.W De Belgische mastiff , which supplied the draught dogs. Needless to say, this wouldn't have been possible without the support of the Royal Museum of the Army and Military History.
The relatively light-weight military dog cart was pulled effortlessly and without difficulty by Gisco and Lys, two sturdy Belgian Mastiffs, which were originally bred in Belgium to pull loads.
After becoming extinct at some point in the 1960s, this breed was re-created by the V.Z.W De Belgische Mastiff and has meanwhile been recognized as a "restoration breed".
The dog cart with its draught dogs and the Maxim machine gun is a weapon system in itself. It allows for the heavy Maxim to be moved and deployed relatively quickly. This was an enormous advantage for the soldiers who had to operate it. The dogs were selected based on various characteristics, like strength and build. Maybe one of their most important qualities was their ability to remain quiet. The character of the Belgian Mastiff or Matin Belge can be described as: confident, social, reliable, very approachable and docile.
This year, the Patrouilleurs will try to be present in full force at various memorial ceremonies and events in Belgium with this military dog cart.
The distinctive draught ropes with hooks, which are seen in the original pictures, had to be re-created and twined as well.
In addition, the ammunition transport version of the dog cart is being rebuilt and is in its final stages of completion. (In the background: the Maxim version)