Clarence Brunnert was surprised by the greeting he and other veterans received when their plane landed at Ronald Reagan Washington International Airport on May 1st. He said it almost moved him to tears.
Over 650 Vietnam War veterans took part in the Nebraska Vietnam Veterans Flight. It's the largest group of Vietnam veterans from any state to visit the Vietnam Wall memorial since last year's honor flight.
Brunnert was in the US Navy's submarine service for seven years during the Vietnam War. He does not regret his time in the service. He says it allowed him to see parts of the world he wouldn't have seen otherwise.
Brunnert is a member of the American Legion Jackson-Peck Post 274 in Herman. He is one of four members of the post to take part in the trip. He enjoyed the day and took the time to thank Bill and Evonne Williams with Patriotic Productions for their work in organizing the day.
Seeing the Wall in person put it in perspective for Brunnert.
Gary Kruse was amazed by the entire experience. He was also overwhelmed by the greeting at the airport. He said the veterans were completely surprised by that.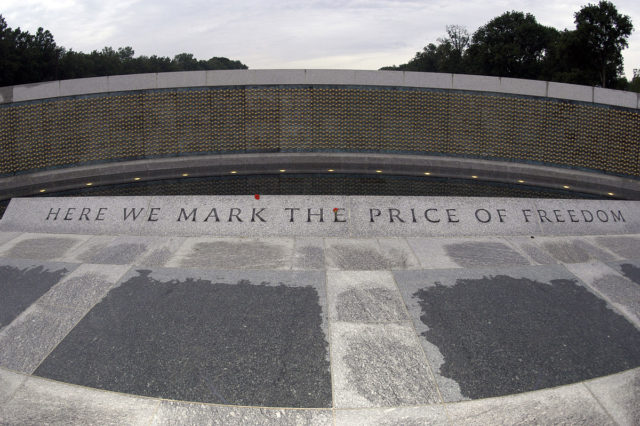 The veterans came from 175 different Nebraska communities. They toured the memorials for the Vietnam War, Korean War, World War II, Iwo Jima, and the Air Force. They also toured Arlington National Cemetery. The event began the night before with a pre-flight dinner at the La Vista Convention Center, Pilot-Tribune & Enterprise reported.
The vets were awoken at 2 am to catch their flights from Eppley Airfield in Omaha. Thousands of residents were on hand to welcome them back at the Lincoln airport that evening.
Bob Wiltry was appreciative of the experience. He said that no one greeted him when he came home from Vietnam. "It was nice to have that homecoming that we never did get," he said.
Wittry was drafted and served a one-year tour with the military police.
He also appreciated how respectful everyone was, even with all the controversy in Washington these days.