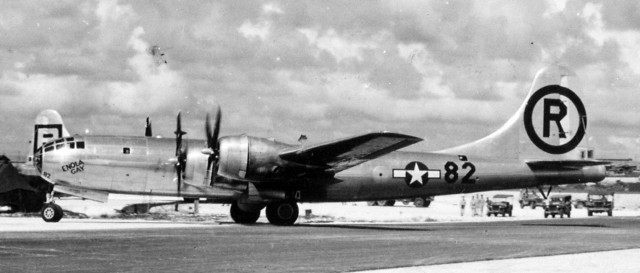 In April 2015, a number of items from World War II were put up for auction at Bonhams in New York. Included among these pieces was a copy of the log books that were written and maintained by Captain Robert Lewis during the years 1942 to 1946, including the mission to Japan that changed the course of world history.
Robert Lewis died in Virginia in 1983, and his personal effects were handed down to his son, Steven Lewis, who then released some significant historical documents to the auction house. The log book, faithfully filled in by Captain Lewis, reveals that he flew thirty-six missions in the US B-29 Superfortress, Enola Gay, which would later become (in)famous as the plane that dropped the first atomic bomb on Hiroshima on August 6, 1945.
Colonel Paul Tibbets became a household name for his exploits in both commanding the Hiroshima mission and piloting the Enola Gay on its historic mission. But it was Captain Lewis who flew the sixteen test missions before the Superfortress set off for Japan with the first primed atomic bomb in the belly of the plane. He was also on board as the co-pilot.
Lewis kept detailed notes of all his missions, and his log books contained meticulous annotations. In his log book for the Hiroshima mission are some very poignant notes:
"I am certain the entire crew felt this experience was more than anyone human had ever thought possible . . . It just seems impossible to comprehend . . . Just how many Japs did we kill? . . . I honestly have the feeling of groping for words to explain this . . . My God what have we done?"
In addition, to the log books, there were other personal documents including a hand-drawn depiction of the mission to drop the atomic bomb. It shows the route the plane would take; the flight levels both for incoming and outgoing routes, the mushroom cloud, and the sharp right turn that they would make to escape the blast's shock wave. Lewis made this drawing immediately following the final pilot's briefing before the plane set off on the mission.
This hand-drawn document was auctioned off for $37,500, but the log books did not meet their reserve price and were not sold.
On 6 November 1945, Lewis flew the Enola Gay back to the United States, arriving at the 509th's new base at Roswell Army Air Field, New Mexico, on 8 November.
Robert Lewis died in Virginia in 1983, Tibbets in 2007 in Ohio. Enola Gay navigator Theodore "Dutch" Van Kirk, the last surviving crew member, died in Georgia in 2014.