The flight logs from the aircraft that dropped the atomic bomb on Hiroshima and ended World War Two are to go on sale. [Via]
The Enola Gay was a US B-29 Superfortress bomber and was the plane used to transport and drop the first atomic bomb. It is the flight logs of the co-pilot which are going to be auctioned at Bonhams in New York. The documents are part of a larger records archive from Captain Robert Lewis' service during World War Two.
It was 70 years ago this summer that the Enola Gay and its crew of 12 men headed to Hiroshima and dropped the bomb to end the war.
Captain Lewis' documents include flight log books, plans of the Hiroshima bombing, operation notes and other miscellaneous papers. They are part of an auction that is selling off a range of World War Two documents. The papers are expected to fetch up to US$200,000.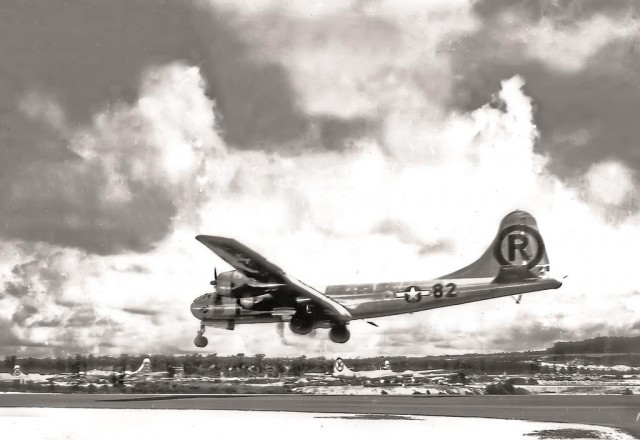 B-29 landing [Via]
Captain Lewis was 27 at the time he made the Hiroshima mission, and was from New Jersey. He flew more than 35 missions on the Enola Gay. His flight log entries are immaculate and for the day of the atomic bomb he wrote that it was a huge success.
His documents cover the entire time he was in service from 1942 to 1946, and were handed down to his son when he died. Steven Lewis who still lives in New Jersey says his father was a meticulous note taker and kept everything, the US News reports.
Meanwhile, war and aviation enthusiasts say that anything to do with the Enola Gay is significant and worth collecting.
Colonel Paul Tibbets was commander of the Hiroshima mission and the pilot of the Enola Gay. He became famous in America after his return from service, but he had only flown the Enola Gay a few times before dropping the atomic bomb. It was Lewis who flew her during test missions and flights in practice for the final real mission.
A few days after Hiroshima, another B-29 Superfortress dropped an atomic bomb on Nagasaki and Japan ended up surrendering justsix days later.
Captain Lewis died in 1983 and Colonel Tibbets in 2007. The last surviving crew member of the Hiroshima mission died last year.
Lewis' son plans to publish a manuscript which his father wrote about his experiences during World War Two.