The remains of F-16 pilot Maj. Troy Gilbert arrived home almost ten years after his death in Iraq while saving the lives of coalition allies and U.S. service members. The remains of Gilbert were taken from a C-17 at Dover Air Force Base.
Gilbert and his wingman were returning to their base in November 2006, when they supported the crew of a helicopter shot down and subsequently came under fire by insurgents. Although the F-16s were low on fuel both flew to assist forcing them to take turns re-refuelling while also providing air support.
Gilbert was delayed after making his first run, but the appeals for support had increased, they needed to ward off attacks from mortars, small arms fire, truck-mounted heavy machine guns, and rocket-propelled grenades.
Gilbert used low-altitude strafing to avoid civilian injuries. He dispersed the insurgents and made a second pass even lower in altitude to track enemy targets moving at high speed. He continued to fire until hitting the ground at high speed. Al Qaeda insurgents took his body before U.S. forces arrived.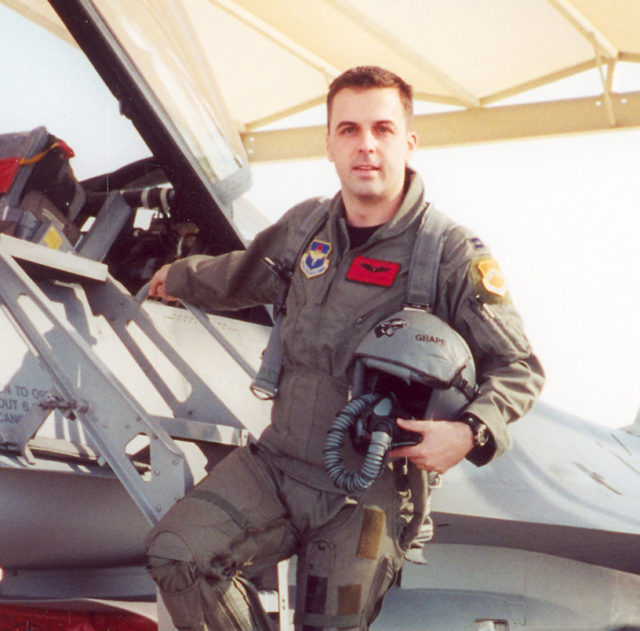 But enough DNA was recovered to identify Gilbert. He was buried with full military honors in December 2006 at Arlington National Cemetery. Six years later, additional but limited remains were retrieved and interred for a second service the beginning of December 2013.
That same year in August, an Iraqi tribal leader produced what he maintained was the remains of a military pilot who had been killed during Operation Iraqi Freedom. Eventually, additional remains were gathered including a parachute harness, flight suit, and flight jacket.
A letter to Gilbert's wife from the Army element commander whose troops Gilbert helped save, wrote that the pilot rescued his unit from certain disaster as insurgents using mortars prepared to assault their position.
His tenacity and bravery quickly dispersed the enemy who fled in panic, he wrote. He and his men will never forget Gilbert's sacrifice, U.S. Air Force reported.
Also, present at Dover was Gen. Robin Rand, commander of the Air Force Global Strike Command, who Gilbert served under in the 332nd Air Expeditionary Wing at Balad Air Base, Iraq.
He recalls Gilbert spent much of his off-duty time at Balad supporting the unit chapel or working voluntarily in the base hospital. He said base medics were so distraught over Gilbert' death, they requested that a hospital wing could be named after him. Enlisted groups requested to the Balad Air Base chapel named after him.