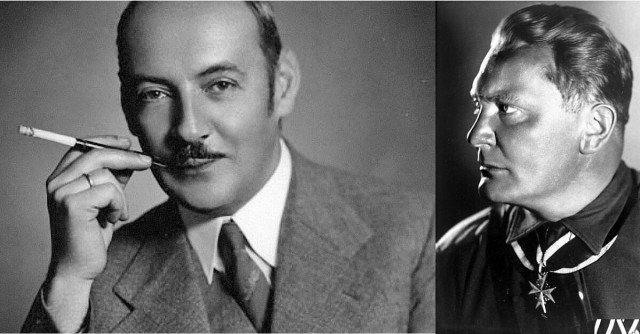 The accolade 'Righteous among the Nations' is awarded by the State and people of Israel to non-Jewish individuals who risked their lives to rescue Jews during The Holocaust. Every candidate for the award is considered by a special commission consisting of Holocaust survivors, historians, and researchers, headed by a Supreme Court judge.
The criteria are strict; the candidate must have risked his or her own life to save one or more Jews from going to a Nazi death camp. The rescue must have been motivated purely by altruism, and there must be corroborating witness evidence.
Recipients of the award receive a specially struck medal with a citation, and their names are recorded on a Wall of Honour in the Garden of the Righteous at the Yad Vashem Holocaust Institute in Jerusalem. They also receive honorary citizenship of the State of Israel.
On 27th January 2016, the BBC broadcast a radio documentary about Albert Goering, the brother of Adolf Hitler's admirer and close confidante Hermann Goering. In overall command of the Luftwaffe, Hermann was a charismatic figure. He believed that Hitler was infallible, and defended his Führer's decisions on all matters.
Goering's flamboyant lifestyle, his ornate uniforms, and his profligate spending did not endear him to other senior members of the Nazi party and he became paranoid, constantly seeking ways to conserve and increase his personal power.
Goering's younger brother, Albert, was one of five children. A film maker at the start of the Second World War, Albert did not share Hermann's love of the Nazi party. He hated the violence and prejudice that pervaded Hitler's regime, but he realised that some of his brother's status and influence rubbed off on him. He used it to good advantage, and it is said that he helped many dissidents to escape from Nazi Germany by forging Hermann's signature on travel documents.
Many anecdotal stories exist about Göring's resistance to the Nazi ideology and regime. For example, Albert is reported to have joined a group of Jewish women that had been forced to scrub the street. The SS officer in charge inspected his identification, and ordered the group's scrubbing activity to stop after realizing he could be held responsible for allowing Hermann Göring's brother to be publicly humiliated.
Albert Göring used his influence to get his Jewish former boss Oskar Pilzer freed after the Nazis arrested him. Göring then helped Pilzer and his family escape from Germany. He is reported to have done the same for many other German dissidents.
There is an unsubstantiated story that Albert may not have been a full brother to Hermann. It claims that he was, in fact, the child of an affair between his mother and Ritter Hermann von Epenstein, the aristocratic godfather of the Goering children. If the story is true, Albert was half Jewish, which would account for his attempts to help Jews escape from the Nazis.
Suggestions that Albert should be considered for a Righteous among the Nations award have been rejected by the Yad Vashem commission, however, because there is insufficient evidence to show that he risked his life to save Jews from deportation and death.
Albert descended into alcoholism after the war, burdened by his notorious family name and legacy, and died on 20th December 1966.
Source: http://ift.tt/1OJDfJN