In June 1917, a young, slight railway porter left his job in Albany, New York and joined the US Army. A scant two months after America declared war on Germany, Henry Lincoln Johnson, then in his mid-20s, was determined to do his duty for his country.
Johnson stood five foot four inches in his stocking feet and weighed in at a slight 130 pounds, but this pocket rocket went on to distinguish himself like a giant in Europe.
Johnson enlisted in Brooklyn, and he was assigned to C Company of the 15th New York Infantry Regiment. It was one of the regiments made up entirely of African-American soldiers that would, in time, become the 369th Infantry Regiment, perhaps better known as the Harlem Hellfighters.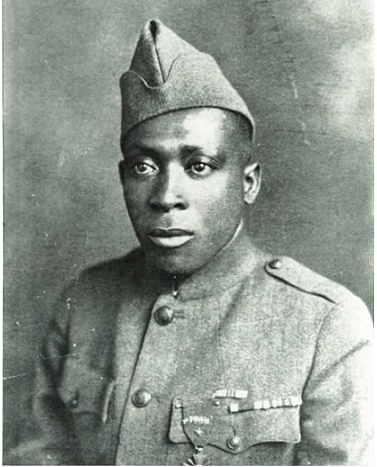 The 369th also became the first black American regiment to serve with the American Expeditionary Forces. Before the 369th, any African-American that wished to serve in a combat role had to join the army of another nation, usually France or Canada.
At this time racism was prevalent and deeply ingrained in the military hierarchy. In fact, the American Expeditionary Forces even had a booklet, "Secret Information Concerning Black American Troops," printed and distributed to the civilian authorities in France. This booklet stated that the black troops were inferior and given to rapist tendencies.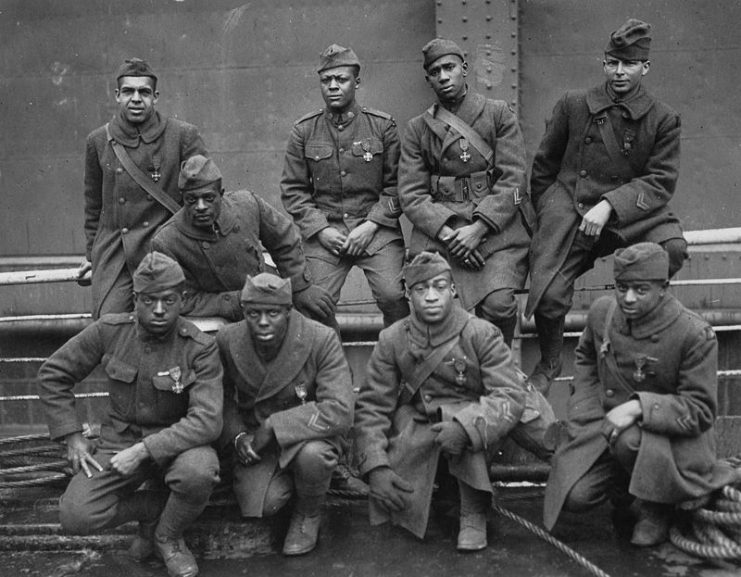 With this booklet having been distributed it is not surprising that the 369th was initially placed on labor duties such as digging latrines and acting as stevedores on the docks. However, in 1918 the French decided that enough was enough and insisted that the 369th enter combat as they had been trained to do.
The French harbored fewer of the racist attitudes of their American counterparts, so early on the morning of 15 May 1918, Johnson and his compatriot, Needham Roberts, found themselves on guard duty on the Western Front near the Argonne Forest.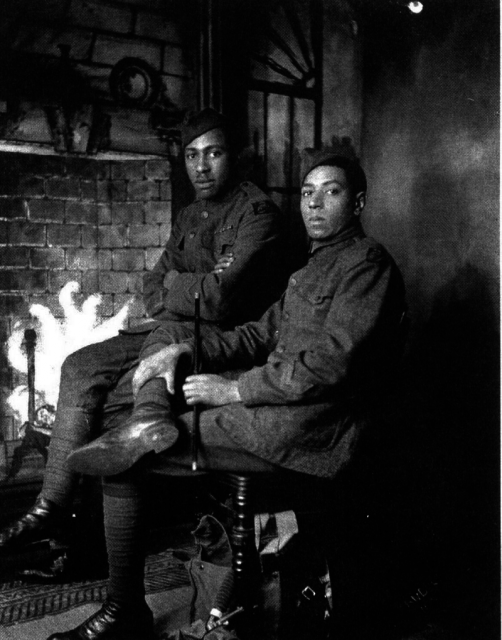 Around one in the morning, the two men found themselves under fire from a German sniper. Johnson opened a box of hand grenades and started lining them up so that he would have plenty of ammunition close at hand.
As he was doing this, he heard the sounds of German soldiers cutting their way through the wire protecting his guard post. He threw a grenade at the sound and the next thing he knew the Germans unleashed hell on earth, firing bullets and grenades at the sentry post.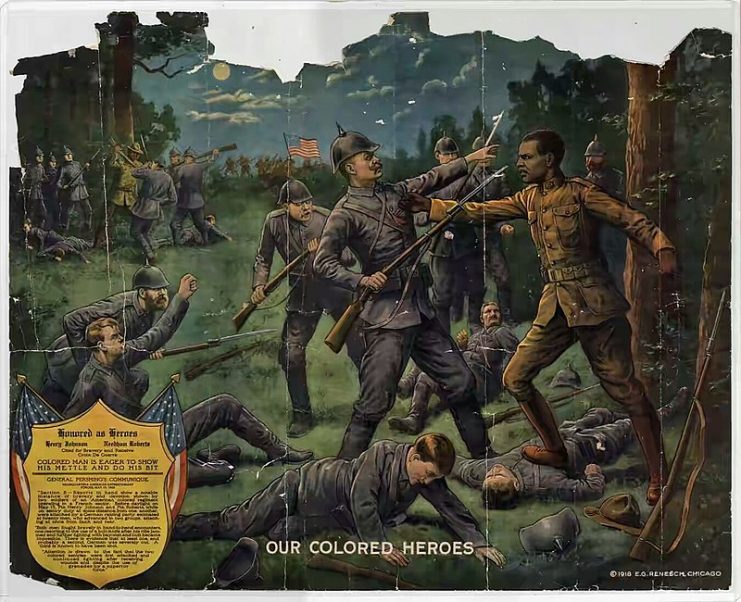 Needham Roberts had been wounded in one of the first volleys fired, but even though he could not walk, he sat upright in the trench and passed ammunition to Johnson. When Johnson ran out of grenades, and his rifle jammed, the Germans advanced and took Roberts prisoner.
Johnson was not about to allow the enemy to take his fellow soldier without a fight, so he leaped out of the trench and charged at the German soldiers.
He used his rifle as a club, swung his fists at anything he could reach, and used his bolo knife to slash at anything close enough to cut. The brave pocket-size hero stabbed a German soldier in the stomach and killed a German lieutenant, but he was shot in the arm in the melee.
He sustained several more wounds as a German soldier tackled him from behind, but the German fell back when Johnson stabbed him in the ribs. Johnson then managed to drag Roberts back to the safety of their trench as Allied reinforcements arrived on the scene.
Exhausted from an hour-long fight and the 21 stab wounds he sustained to his arms, feet, back, and face, Johnson passed out once he knew Roberts was safe. Johnson's left foot had been badly broken, and he had a metal plate inserted while undergoing medical treatment at a French hospital.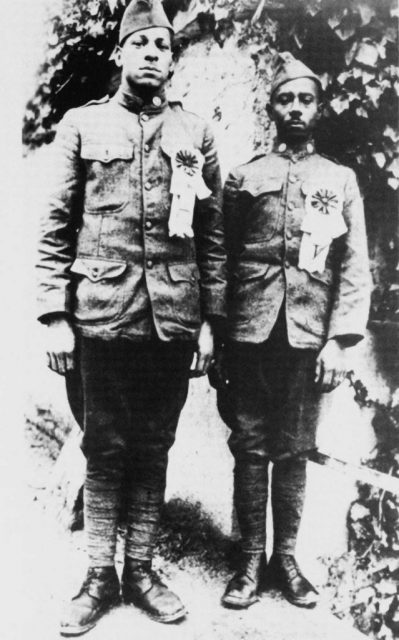 When day dawned, his American compatriots found the bodies of four Germans and evidence that between 10 and 20 additional enemy soldiers had participated in the fight.
Johnson's ferocious defense of Roberts earned him the nickname "Black Death," and he was awarded the Croix de Guerre with a Gold Palm by the French for his extraordinary bravery. Roberts received the Croix de Guerre. Johnson was the first American to receive this award, France's highest for bravery.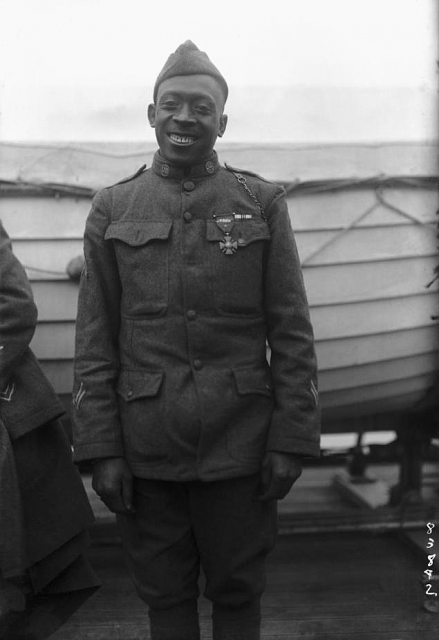 The Harlem Hellfighters continued serving with distinction and spent 191 days on the front line. They sustained a total of 1,500 casualties during this time, more than any other unit.
Johnson returned to America but was unable to return to his old job as a porter due to the severity of his injuries. He became a sad, broken man, destitute and addicted to alcohol. He contracted tuberculosis and died of myocarditis in January 1929. His remains were interred at Arlington National Cemetery.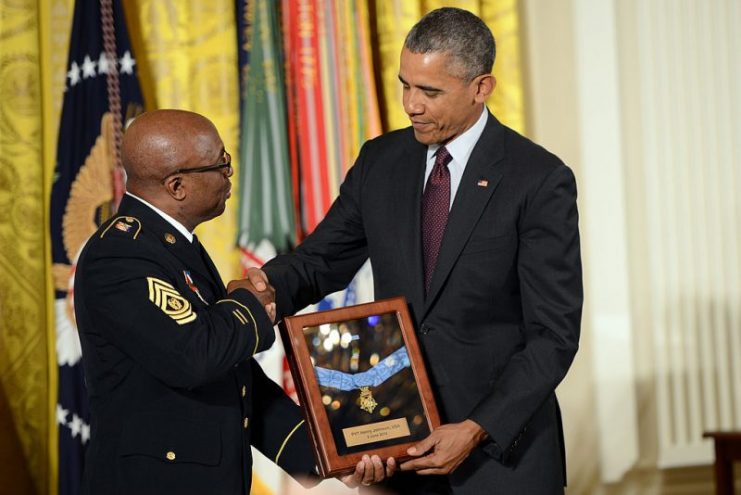 Read more article from us – WWII Spy Award Congressional Medal of Honor 60 Years After Service
He was posthumously awarded the Purple Heart in 1996 and, in 2002, the Distinguished Service Cross. President Obama also awarded him the Medal of Honour for his bravery. The citation for his Medal of Honor makes for fascinating reading.