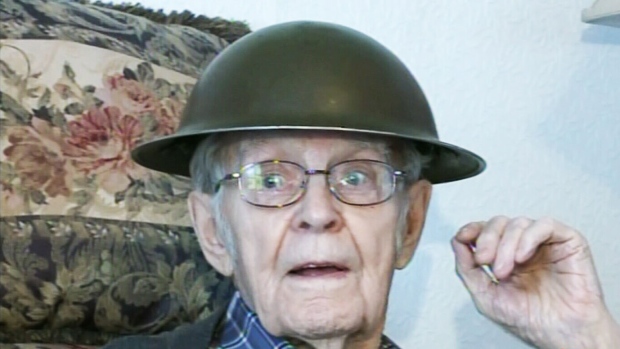 Approximately seventy years ago, George Johnston was a member of the North Shore Regiment's B Company in the Second World War.
From 1940 to 1946, Johnston was one of thousands of Canadian soldiers who stormed onto Juno Beach in Normandy on that fateful day—June 6, 1944. The date is better known as D-Day.
The helmet that protected Johnston in France, Belgium, the Netherlands and Germany was bent so badly, it had to be replaced with a new one. As time passed, Johnston lost his life-saving D-Day helmet.
CTV News Atlantic reported that Johnston's wife, Annie, received a phone call on February 18th. On the other end of the phone was a woman who asked if George W. Johnston lived there and if he served with the North Shore Regiment during World War Two.
Naturally, Annie said "yes" to both questions and the woman who called said someone had a helmet that belonged to him and they wished to return it.
Jordan Chaisson is a war history aficionado who was in possession of the helmet. "I didn't know what to say, or what to do," says Johnston.
Chaisson bought the helmet at an Army surplus store at Moncton and noticed the helmet had an Army ID number inside.
"At the beginning, I just wanted to see who it belonged to," says Chaisson. "But, as soon as I found out he was alive, this got more personal. I had to give it to him. It's not mine to keep."
Chaisson was able to locate Johnston by using the Army ID 22694 that was inside the helmet. He was determined to locate the owner of the helmet.
When the two gentlemen met, they both felt that it was a memorable meeting.
"Feelings you can't explain," says Johnston. "To have that hat back, I never thought I would ever see it."
"The joy that was on his face and her face as well, was pretty remarkable," says Chaisson.
The Johnstons say the helmet will remain in the family.
"I think he's happy to have it back and his kids are too," says Annie.