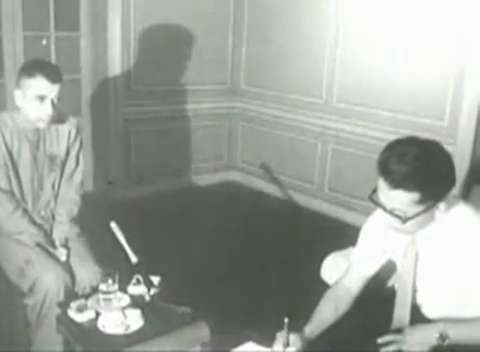 Prisoner Of War Jeremiah Denton, who survived 7 years locked in a tiny windowless cell in Hanoi during the Vietnam war, has passed away in his Virginia home, aged 89. The veteran famously alerted the U.S. military to conditions at the 'Hanoi Hilton' and other camps when he blinked the word 'torture' in Morse code during a television interview – a message missed by his captors.
However, the iron will that allowed him to persevere in the small, stinking cell gave rise to criticism he was too rigid a politician. In July 1965, a month after he began flying combat missions for the U.S. Navy in Vietnam, the Mobile native was shot down near Thanh Hoa. He was captured and recalled his captivity in a book titled 'When Hell Was in Session.'
'They beat you with fists and fan belts,' he told the Los Angeles Times in 1979. 'They warmed you up and threatened you with death. Then they really got serious and gave you something called the rope trick.'
The use of ropes — to cut off circulation in his limbs — left him with no feeling in his fingertips and intense muscle spasms, he said.
Some of the most severe torture came after the 1966 interview, in which he confounded his captors by saying that he continued to fully support the U.S. government, 'and I will support it as long as I live.'
'In the early morning hours, I prayed that I could keep my sanity until they released me. I couldn't even give in to their demands, because there were none. It was pure revenge,' Denton wrote. The tape was widely seen, and U.S. intelligence experts had picked up the Morse Code message.
Scroll down for video
Jeremiah Andrew Denton, Jr. (July 15, 1924 – March 28, 2014) was a Rear Admiral and Naval Aviator in the United States Navy and, following his retirement from naval service, was a United States Senator from the state of Alabama.
He spent almost eight years as a prisoner of war (POW) in North Vietnam and later wrote a book that became a film about those experiences. Denton is best known from this period of his life for the 1966 televised press conference in which he was forced to participate as an American POW by his North Vietnamese captors. He used the opportunity to communicate successfully and to confirm for the first time to the U.S. Office of Naval Intelligence and Americans that American POWs were being tortured in North Vietnam. He repeatedly blinked his eyes in Morse code during the interview, spelling out the word "T-O-R-T-U-R-E".
Early life and military career
Denton was born in Mobile, Alabama, the oldest of three brothers, and the son of Jeremiah, Sr. and Irene (Steele) Denton.
Denton attended McGill Institute and Spring Hill College in Mobile, Alabama. In June 1943, he entered the United States Naval Academy in Annapolis, Maryland, and graduated three years later in the accelerated Class of 1947. His 34-year naval career included service on a variety of ships and on aircraft, including airships (blimps). His principal field of endeavor was naval operations. He also served as a test pilot, flight instructor, and commanding officer of an attack squadron flying the A-6 Intruder.
In 1957, he was credited with revolutionizing naval strategy and tactics for nuclear war as architect of the "Haystack Concept." This strategy called for concealing aircraft carriers from radar by intermingling with commercial shipping and avoiding formations suggestive of a naval fleet. The strategy was simulated in maneuvers and demonstrated effectiveness, allowing two aircraft carrier fleets thirty-five simulated atomic launches before aggressor aircraft and submarines could repel them. He went on to serve on the staff of the Commander, U.S. Sixth Fleet at the rank of Commander (O-5) as Fleet Air Defense Officer.
Denton graduated from the Armed Forces Staff College and the Naval War College, where his thesis on international affairs received top honors by earning the prestigious President's Award. In 1964, he received the degree of Master of Arts in International Affairs from George Washington University in Washington, D.C.
Prisoner of war
Denton served as a United States Naval Aviator during the Vietnam War and was the Commanding Officer of Attack Squadron Seventy-Five aboard the aircraft carrier USS Independence. On 18 July 1965, then-Commander Denton was flying an A-6A Intruder off the Independence with Lieutenant (JG) Bill Tschudy, his navigator/bombardier, leading twenty-eight planes on a bombing mission. They ejected when their jet was shot down over the city of Thanh Hoa in North Vietnam, and they were captured and taken prisoner by the North Vietnamese.
Denton and Tschudy were both held as prisoners of war for almost eight years, four of which were spent in solitary confinement. Denton is best known from this period of his life for the 1966 televised press conference in which he was forced to participate as an American POW by his North Vietnamese captors. He used the opportunity to communicate successfully and to confirm for the first time to the U.S. Office of Naval Intelligence and Americans that American POWs were being tortured in North Vietnam. He repeatedly blinked his eyes in Morse code during the interview, spelling out "T-O-R-T-U-R-E". He was also questioned about his support for the U.S. war in Vietnam, to which he replied: "I don't know what is happening, but whatever the position of my government is, I support it fully. Whatever the position of my government, I believe in it, yes sir. I am a member of that government, and it is my job to support it, and I will as long as I live." While a prisoner, he was promoted to the rank of Captain. Denton was later awarded the Navy Cross and several other decorations, mostly for heroism while a prisoner of war.
Denton was put in the "Hanoi Hilton" and the "Zoo" prison and prison camp and "Little Vegas" and "Alcatraz" prisons. In "Alcatraz", he became part of a group of American POWs known as the "Alcatraz Gang". The group consisted of James Mulligan, George Thomas Coker, George McKnight, James Stockdale, Harry Jenkins, Sam Johnson, Howard Rutledge, Robert Shumaker, Ronald Storz and Nels Tanner. They were put in "Alcatraz" and solitary confinement to separate them from other POWs because their strong resistance led other POWs in resisting their captors. "Alcatraz" was a special facility in a courtyard behind the North Vietnamese Ministry of National Defense, located about one mile away from Hoa Lo Prison. Each of the American POWs spent day and night in windowless 3-by-9-foot (0.91 m × 2.74 m) cells mostly in irons.
Navy Captain Denton at Clark Air Base, Philippines, shortly after his release from Hanoi in February 1973.
On February 12, 1973, both Denton and Tschudy were released in Hanoi by the North Vietnamese along with numerous other American POWs during Operation Homecoming. Stepping off the jet back home in uniform, Denton said: "We are honored to have had the opportunity to serve our country under difficult circumstances. We are profoundly grateful to our Commander-in-Chief and to our nation for this day. God bless America." The speech has a prominent place in the 1987 documentary, Dear America: Letters Home from Vietnam.
https://youtu.be/BgelmcOdS38
Post captivity
Denton was hospitalized briefly at the Naval Hospital Portsmouth, Virginia, and then was assigned to the staff of Commander, Naval Air Forces, U.S. Atlantic Fleet. In January 1974, Denton became the commandant of the Armed Forces Staff College, now known as the Joint Forces Staff College. He stepped down as commandant in April 1975 and continued to work at the college until June 1977. He finished his active duty service at Naval Air Station Pensacola, Florida, and retired from the Navy on November 1, 1977 with the rank of Rear Admiral. He wrote his book in 1976, When Hell was in Session, detailing his detention as an American POW in North Vietnam. The book was later turned into a television movie of the same title, starring Hal Holbrook as Denton. He accepted a position with the Christian Broadcasting Network (CBN) as a consultant to CBN founder and friend, Pat Robertson, from 1978 to 1980. During his time with CBN, both Denton and Robertson repeatedly expressed support for the Contra forces in Nicaragua. In 1981, he founded and chaired the National Forum Foundation. Through his National Forum Foundation, Denton arranged shipments of donated goods to countries in need of aid.
Political career
Denton ran as a Republican for a U.S. Senate seat from his home state of Alabama in 1980. He first easily defeated former U.S. Congressman Armistead Selden in the Republican primary. Selden was the candidate of choice of the Republican establishment in the state. He then achieved a surprise victory with 50.15% of the vote in November over Democrat Jim E. Folsom, Jr., who himself had defeated the incumbent, Donald W. Stewart, in the Democratic primary. In doing so, Denton became the only retired admiral to be elected to the United States Senate. He was the first Republican to be popularly elected in the state since the direct election of U.S. Senators began in 1914. He was also the first Republican senator since Reconstruction to represent Alabama in the U.S. Senate, and the first Catholic to be elected to statewide office in Alabama. In the U.S. Senate, he compiled a conservative voting record. He was featured in a 1981 article in Time Magazine called "The Admiral from Alabama".
In 1986, he narrowly lost his bid for reelection to 7th District Congressman Richard Shelby receiving 49.72% of the vote. Shelby later became a Republican in 1994.
Personal life
In 2007, his wife, Jane, died. They had been married for sixty-one years.
Denton died of complications from a heart ailment at a hospice in Virginia Beach on March 28, 2014. He was 89 years old. He is buried at Arlington National Cemetery with his wife Jane.