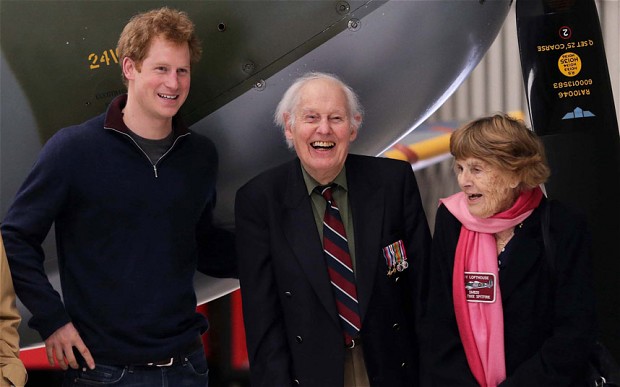 The were know as 'The Few' by all British people, the team formed of brave servicemen of the RAF who kept Hitler's Luftwaffe at bay during the Battle of Britain. Prince Harry visited a former Battle of Britain air base, where he met some of the few survivors from the RAF who took part in the operation and some other missions during the Second World War and paid tribute to their bravery.
He went on to inspect a Spitfire fighter at the Goodwood, nearby RAF Westhampnett, from where several Battle of Britain servicemen flew at the time of the operation. Prince Harry has himself taken part in one of the most recent campaigns in Afghanistan, where he served as a helicopter pilot and co-gunner.
During his visit at Goodwood, the Prince met Joy Lofthouse, 91, who flew the Spitfire and other fighter aircraft to different bases around Britain, as a member of the Air Transport Auxiliary. Jimmy Taylor, 91, is another veteran with whom Prince Harry engaged in conversation. The 91-year-old vet was captured by the Germans in 1944. Eric Carter was also there, as the last surviving member of a unit sent to northern Russia in 1941; the Prince also met Joe Roddis, who looked after the RAF's fighters as a teenage mechanic and pilot Peter Hale, who served with the  No 41 (Reserve) Squadron in 1944 and 1945.
Prince Harry, politely told the veterans at the air base that today's pilots are nowhere near as good as they were at the time of the Second World War, however, technology has improved a big deal and nowadays, aircraft seem to have minds of their own. Mr Carter told the Prince that indeed, at that time, what they did was real flying, The Telegraph reports.
Unfortunately, due to bad weather conditions, the Prince was not able to fly the Spitfire, however, he did fire up the engine. He launched a scholarship at the  Boultbee Flight Academy for wounded former pilots, supporting several flying schools in the United Kingdom and giving over 400 disabled servicemen and women the chance to fly every year.
Harry received a mini jumpsuit from the academy's staff, for little Prince George. Before his visit, he spent his whole morning racing classic cars at Goodwood Motor Circuit, together with many other wounded soldiers who received help from the charity founded to help them rediscover themselves.
"It's the best thing you have ever done, the hardest thing you have ever done, the worst thing you have ever done, all in one experience. It's hard to mentally and physically motivate yourself to keep going," said Captain Mark Jenkins, part of the Row2Recovery team.
//