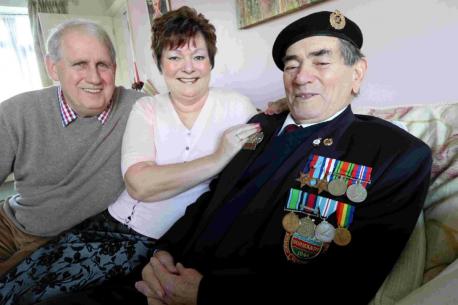 Happy Birthday, Ted!
21-year-old Ted Young was one of the throngs of soldiers who became part of the D-Day Landings on Normandy Beach, France. He is one of the youngest surviving D-Day war veterans and had recently celebrated his 90th birthday in Poole Harbour overseeing the sea.
Ted landed in Normandy Beach along with his comrades from the 25 Airfield Construction Group of the Royal Engineers and Canadian forces 69 years ago. he had to clamber up Juno beach which was under heavy fire that time and became one of the surviving soldiers of that historic day – June 6, 1944 – hailed as history's biggest amphibious operation.
"I landed and had to wade through with water up to my neck. All we were told is: 'Keep your guns dry' so we held them high over our heads," he recounted.

"It took us all at least six days to dry off. I remember climbing the sand dune and spotting a farm with a windmill, so I know exactly where I landed."
as a serviceman belonging to the 681 Road Company of the Royal Engineers, he was responsible for building roads, bridges and airfields; he even helped in constructing the first airfield for spitfires in Bény-sur-Mer. He was only 17 years old when WWII broke out but the D-Day veteran lied about his age just to get signed up in Colchester as 19 years old was the accepting age for the British army.
D-Day veteran Ted Young now lives with his eldest daughter and her husband  Paul in Parkstone and makes it a point to attend D-Day anniversary remembrance events yearly.
"The camaraderie is still incredible today. We go over for the celebrations and all the veterans come to life as if 20 years has been taken off their age.

"They sing, have drinks and pay homage to those who lost their lives," Irene said about the D-Day celebrations she attends with her father.
The D-Day veteran married his wife, also named Irene, in 1961 and now is a proud great-grandfather to his seven great-grandchildren.
He celebrated his 90th birthday last Saturday, December 28, 2013, in Poole's Haven Hotel.