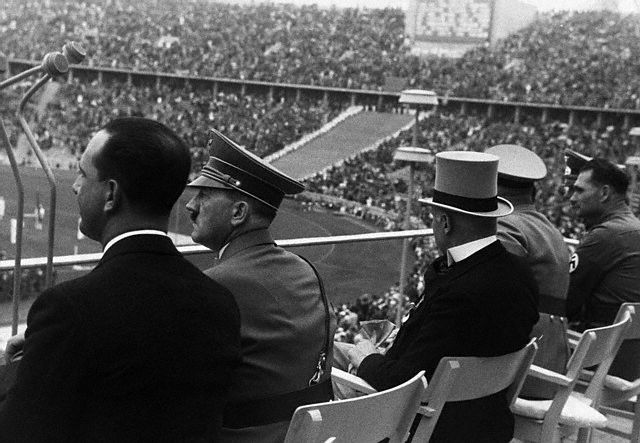 Halet Çambel may have failed to bring Turkey honors from the 1936 Berlin Olympics but she did one thing that earned her the world's applause — refusing to meet then German dictator Adolf Hitler.
Halet Çambel was Turkey's representative in the women's individual foil event in the Berlin Olympics way back in 1936; she was the first Muslim woman to ever compete in the games. After WWII ended, Halet Çambel became a esteemed archaeologist and she passed away at the ripe age of 97.
She was 20 years old at the time of the Berlin Olympics and already had reservations about attending the Nazi-run event. When she was told she had to meet the Führer, she felt she was far too compromised so she readily refused the meeting.
"Our assigned German official asked us to meet Hitler. We actually would not have come to Germany at all if it were down to us, as we did not approve of Hitler's regime. We firmly rejected her offer," Halet recounted.
Halet Çambel was no stranger to Germany having been born in it, in Berlin to be exact, on August 26, 1916. She came from one of Turkey's political lines that time – her grandfather, Ibrahim Hakki Pasha, was the Ottoman Ambassador to Germany while her Hasan Cemil Çambel, was the military attaché of the embassy. The latter was also a close associate of Turkish Republic's founder, Mustafa Kemal Ataturk.
She spent some of her early years in Berlin with her parents, who saw her as a frail child, and her three siblings. Their concern sprouted out from her being sick with typhoid and then hepatitis. She was always dressed up with heavy layers of jumpers and woolly socks.
"They always looked at me as if my days were numbered," she recalled.
Unknown to them, she removed the heavy clothing she was made to wear in school. She also started exercising at an early age in a bid to gain more strength.
"The German books I read contained stories about knights. I was very impressed by them, this is why I took fencing," she said as a way of explaining why she took up the sport.
The family resettled in Istanbul in the mid-1920sm where before the Republic was founded, Halet Çambel was "shocked by the black shrouded women who came and visited us at home".
One of Ataturk's heritage was to widen the rights and responsibilities of women and sports participation was one of the freedoms provided by the legacy.
However, Halet Çambel confirmed that her country took amateur steps for the Olympic bid.
"We did not prepare. Everybody would train at their own spare time," she admitted.
So after going through training with a Hungarian coach in Budapest which proved to be unhelpful to her, she flew to Berlin for the games. She was there when an angry Hitler walked out of the Olympic Stadium after Jesse Owens, the renowned American black athlete, won the 100m sprint.
On her return after the Berlin Olympics, Halet Çambel met a Communist poet who became a well-known architect later, Nail Çakırhan. The two got married in secret ceremony as Halet's family was unimpressed by Nail's  Marxist beliefs. She then went on to study Archaeology – as well as Hittite, Assyrian and Hebrew dialects – in Sorbonne, Paris after which she pursued her doctorate at the University of Istanbul in 1940. At the actual wake of WWII, she studied with Helmuth Bossert, a German professor and on 1947, she helped him with his excavation of Karatepe, an 8th-century fortress city of the Hittites, which was located in southern Turkey's Taurus Mountains.
Karatepe went on to become her life's work. For over fifty years, Halet Çambel spent six months of every year digging and going over the site. Through Karatepe, she helped advance a greater understanding about Hittite hieroglyphics, the endemic logographic script used by the early settlers of central Anatolia. She also was a key person for building ties between the German archaeological community and Turkish academics. As a matter of fact, Halet Çambel became a member of the German Archaeological Institute.
Though a good-looking woman, Halet Çambel was all professional when it came to her pioneering digs in southeastern Anatolia earning her the respect of her peers. As Danish-German ethnologist Ulla Johansen pointed out, she was never frivolous but instead always opted to be practical at the site – man's trousers, high-buttoned blouses that always covered her upper arms and a man's cap on her short crop was her usual garb.
Halet Çambel became a professor of Prehistoric Archaeology at Istanbul University in 1960; here, she later found a chair devoted to the field. She was also awarded the Prince Claus Award in 1960 – the Dutch recognition was for her progressive approach to culture.
She was married to her husband Nial for 70 years until his death in 2008. Just this month, January 12, Halet Çambel was found dead in her apartment; she was 97.