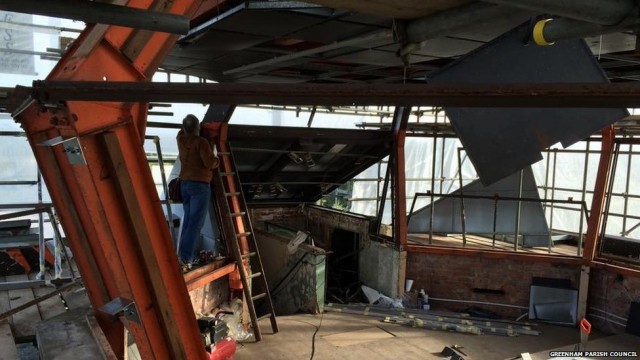 Work to renovate an abandoned Cold War airbase control tower is under way in Berkshire. On completion, the tower will become a visitor centre open to the general public.
The airbase control tower situated in Greenham Common is registered as a grade II property. The restoration effort is to consist of displays that will give details on the history of the common and the tower, where the United States located their cruise missiles during the 1980s.
The restoration activities taking place on the Cold War control tower is made possible because the council was given the sum of £421,555 to enable it purchase and renovate the abandoned tower. The council hopes the project will be completed on time so it could be open for the public to visit by next summer.
Some of the work to be carried out on the tower is the reparation of parts of its roofs that are already worn out and causing it to leak.
Speaking about the most important place the tower restoration should start; Councillor Julian Swift-Hook said it will have to be the repair of the destruction that the tower has gone through in the past 20 years due to the lack of care and the sabotage it has encountered. Other things that need to be revamped according to him are the plasters peeling off, shattered windows, flaking paintwork, decomposed timbers as well as worn-out steelwork.
The Cold War control tower was built in the beginning of the 1950s and was in use until 1993 when the US airbase was closed. From that moment, it was abandoned and no attention was given to it, the BBC News reports.
Facilities for schools as well as other groups, in addition to a café centre will be some of the things that will be included in the visitors centre.
To make sure the tower retains its original look, a majority of its distinctive components will be kept intact and unchanged. One of such features is the viewing gallery located at the top of the control tower.
The Cold War was fought between the Union of Soviet Socialist Republics (USSR) and the United States. The US on the Western Bloc had NATO and other counties as its allies while the USSR on the Eastern Bloc had its Soviet Union members and its Warsaw Pact countries as its allies.
At the time the Cold War was fought, the Eastern Bloc led by the USSR and Western Bloc led by America were two superpowers whose political and economic differences were very profound. The war, recorded to be fought through 1947 – 1991 was named "cold" because there were no direct major battles between both sides.