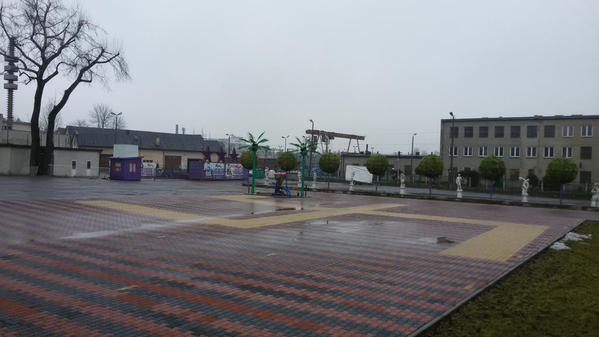 A giant swastika has been painted on the ground in a car park in the Polish town of Częstochowa.
The car park belongs to a nightclub and the owner has said that it was never his intention to have a swastika painted on the ground. Marek Pelian says that it was a galaxy design with four arms, since the theme of the disco is astronomical.
He said the main purpose was to highlight the pathway to his club for attendees.
The swastika design has been painted in yellow in front of the Ray disco in the centre of the southern Polish town.
It is visible from the roadside and passers-by on foot, car and tram have noticed the controversial design and made complaints to the club owner and local council. The painting has the potential to come under police investigation.
Under Polish law it is illegal to display the swastika; the symbol of the Nazi regime brings strong emotions and memories back to the Polish people, who were occupied by Germany during World War Two.
Mr Pelian has said that the four-armed design is just meant to act as a 'yellow brick road' to direct his customers to the front door of the club, while a different arm directs them to a new outdoor stage that is to be built in the future.
Mr Pelian says that even if Hitler did use the design, it is not just a symbol of Nazism. But local residents are not in favour of the design remaining in the car park.
It is particularly painful for residents who lived through the Nazi invasion and whose families suffered under the Nazis. The Polish media has been reporting reactions to the design and a local resident, Pawel Krysiak, says that in Europe the swastika is always going to be linked to the Nazi regime and the genocide of the Jews and other people who were part of its Final Solution plan.
In 1942 almost 40,000 Polish Jews and other people were captured and sent to the concentration camp at Treblinka to face their death. Mr Krysiak says that this all happened under the sway of the swastika. He says that the people of Częstochowa still live with the memory of the atrocities of the Nazis and they should never be forgotten, The Telegraph reports.
The swastika symbol is an equilateral cross, with the four arms bent at 90 degrees. It originated in Asia and is sacred and auspicious in Hinduism, Buddhism and Jainism. It was adopted by the Nazi regime as part of their flag design and was used to symbolise the creation of or effecting of life, which was about creating their 'perfect Aryan race'.
Image used: Twitter / CiastekPiotr