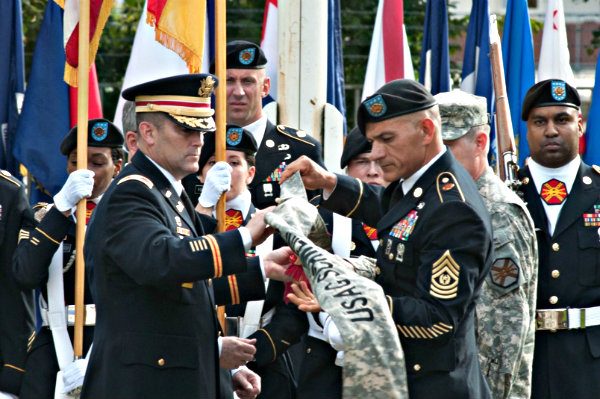 Schweinfurt, Germany – The sounding of the bugle's call playing "To The Colors" may mean the end of a day's work in US military bases throughout the world, but on September 19, Friday, it was that sound that marked the closing of the Schweinfurt Army Garrison in Germany…for good.
The bugle was played simultaneously with the lowering of the American flag, marking the final time US soldiers will be gracing through the grounds of the Schweinfurt Army Garrison. The simple event marked the official turning over of the said base by the US Army to the German government.
The simple ceremony, which occurred at the Ledward Barracks of the Schweinfurt Army Garrison, was attended by soldiers who formerly resided within the base, the community and even notable figures which include Schweinfurt mayor Sebastian Remelé.
Mayor Remelé, in his speech during the closing ceremony, voiced out what everybody felt at that very moment — sadness. He traced through the years the US army resided at the base, saying that within those seven decades, the Americans residing in Schweinfurt Army Garrison have become part of the German community where it was established. Remelé also expressed his gratitude for the shared camaraderie they had with the soldiers in the base.
Schweinfurt Army Garrison: The History
The Schweinfurst Army Garrison was an important part of Nazi Germany's war effort during the Second World War. It was used mainly as a training area for the Luftwaffe while the town had ball-bearing production facilities.
It was on the 22nd of April, 1945 when the United States' 42nd Division, 7th Army gained control of the town, its facilities and the military base. It has been in America's hands ever since.
An estimated number of 12,000 US Army personnel lived within the walls of Schweinfurt Army Garrison over the years. But recently, ever since the base' planned closure was announced in 2012, that number had dwindled down.
The last operational unit left the base in May. Only a small detachment was left behind to assist with the transition of the Schweinfurt Army Garrison from American command in German hands.
That unit was the last of the American soldiers to have resided at the base until last Friday's poignant farewell ceremony.
The closing of Schweinfurt Army Garrison is part of the realignment of the US Army in Europe with the aim of reducing the country's footprint across the continent. A week before its closure, the Bamberg military base was also closed down.