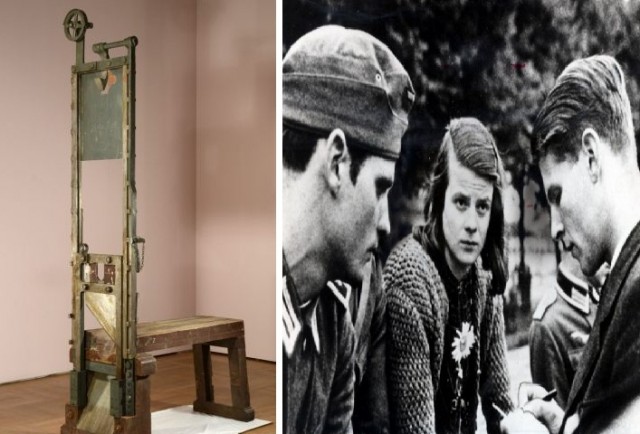 Germany – A guillotine used during the Nazi era found stored in a warehouse of a Bavarian museum has generated a nationwide debate over whether it should be exhibited or not.
The said killing machine was used by the Nazis to kill about 1,000 individuals who opposed the party and its ideals.
Among those against its display is one of the last living members of the White Rose, a resistance movement against the Nazis during WWII. Its leaders were among those who were sentenced to die through guillotine and were executed in February 1943.
89-year-old Franz Josef Muller pointed out in an interview with The Daily Mail that "under no circumstances should entertainment be made of the violent deaths of his friends, the siblings Sophie and Hans Scholl".
"I think of them everyday," he added.
However, the head of the White Rose Foundation, Hildegard Kronawitter, see things in a different light. In an interview with the circulation Sueddeutsche Zeitung, she expressed that the the said killing instrument must be displayed given that it be in its proper setting – within the context of how the Nazis abused justice.
"Any exhibit could be useful in conveying the brutality of the regime, but must be done with the utmost sensitivity," Karl Freller, the Foundation of Bavarian Memorials' director, said when interviewed by Sueddeutsche.
He also added that everything must be done without sensationalism in mind and that members of the White Rose Foundation must be involved actively with the decision.
It can be remembered that during the reign of the Nazis with their head, German dictator Adolf Hitler, the White Rose Movement members wrote and distributed flyers which contained the abuses made by the Nazi state; their flyers even tackled the killings of the Jews rampantly happening in eastern Europe that time, a subject which few other resistance movements touched.
The movement's leaders, the Scholls, were later arrested after a janitor at the university they were attending in Munich spied on them, saw them distributing the leaflets and spilled the information to the authorities.
According to Kronawitter, seven members of the White Rose Movement along with 1,000 other were executed through the guillotine.