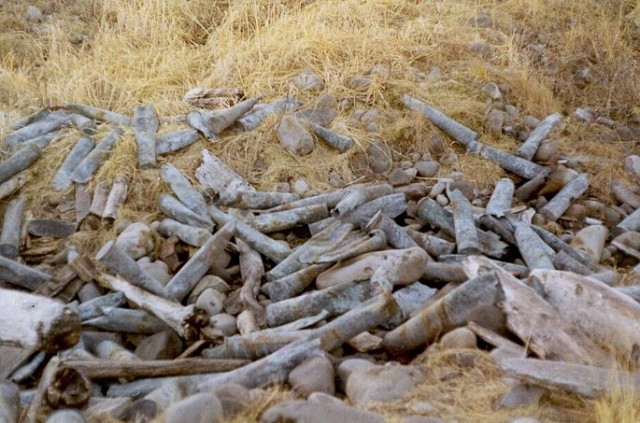 Even though WWII ended nearly 70 years ago, The Atlantic reports that there are thousands of tons of munitions still buried under Germany—unexploded and undiscovered.
In Bradenburg, the state that surrounds Berlin, alone find an average of 631 tons of unexploded munitions every year. Nationwide the figure reaches an estimated 2,000 tons annually. According to Spiegel Online, "Barely a week goes by without a city street or a motorway being cordoned off or even evacuated in Germany due to an unexploded bomb being discovered."
There remains many more undiscovered munitions deep under the German soil. There is an estimated total of 95,000 to 285,000 tons of munitions still undiscovered. "We'll have enough work to keep us busy for the next 100 to 120 years," the proprietor of a bomb disposal outfit told the New York Times back in 2006.
To make things more complicated, the work of defusing and disposing is becoming more dangerous and difficult as the bombs slowly degrade. "In the last few years, we've found that the detonators we take out of the bombs are more and more brittle," Hans-Jürgen Weise told Spiegel Online in 2008. "Recently we've had three extracted detonators go off with a pissssh sound while they were being transported away, all it took was a bit of vibration. One day such bombs will be so sensitive that no one will be able to handle them. We may have to stop defusing them as soon as next year."
Even though the munitions are commons, there are few deaths as a result of them being detonated. In 2010, three bomb disposal experts were killed when a bomb exploded even before they could begin their work. In 2006, a highway worker was killed when he accidentally cut into a bomb below the autobahn southeast of Frankfurt. Before these instances, no one had died from a WWII munition in Germany since 1994.
On January 3rd, 2014 another bomb exploded. Nearly 70 years later, a bomb in Euskirchen in western Germany exploded. It killed an excavator's operator and critically injured 13 others.
There will be a day when people will no longer die as a result of a WWII era munition, however that day will not come any time soon. This war will continue to claim lives long after the final battle was waged.