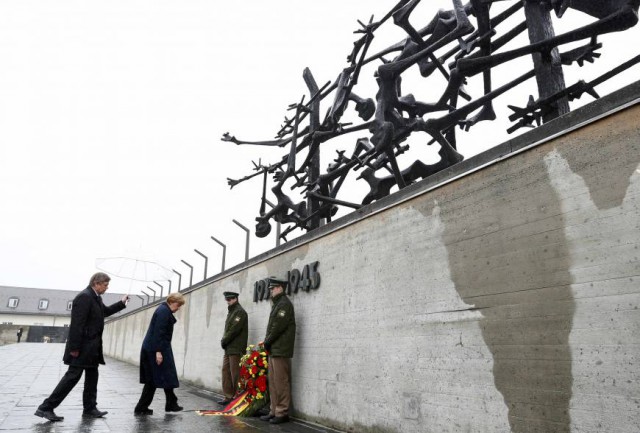 [Via]
German Chancellor will be attending a commemorative ceremony in Dachau on Sunday, along with Nazi concentration camp's survivors. US forces liberated the prisoner at the Dachau camp almost 70 years ago, just a day before the death of the 'Fuhrer'.
US troops entered the Dachau camp only to discover the corpses and starving prisoners looking at them with shock and surprise. It was reported that more then 4,000 people were killed in the Dachau concentration camp alone. American soldiers reported the scenes of unspeakable horror when their trucks rolled in the camp on 29th April 1945.
There have been a number of similar ceremonies held at other Nazi camps throughout Europe. First ceremony was held at infamous 'Auschwitz' in Poland. German chancellor has only visited the camp in Dachau, first in 2013 just before the elections and now to attend the ceremony.
One of the Dachau survivors Clement Quentin said that when US forces liberated them they could not believe their luck because almost all of the prisoners were simply ready to die. Mr. Quentin, who is now living in France, said that overtime prisoners at Dachau lost any sense of being human. The imprisonment and ill treatment by SS soldiers, degraded them from humans to less then animals, and most of the prisoners lost any faith and hope in humanity. Quentin added that although he only stayed in Dachau camp for 10 months, however he witnessed and suffered from unimaginable inhumane acts by Nazis. He said that SS Medical teams would inject him and scores of other prisoners with various diseases like tuberculosis, to conduct their experiments.
Last week United States' President Barack Obama paid tributes to more then 200,000 innocent people who were kept at Dachau. Most of the Dachau prison population consisted of Jews, gays, Roma, disable people, and political opponents, the Business Insider reports.
Immediately after successfully taking control of the reigns of the county in 1933, Adolf Hitler ordered to open the camp in Dachau. Dachau camp was the very first concentration camp in Europe and became a standard model for many others to follow including the infamous 'Auschwitz'.
In the commemoration ceremony, some 130 survivors and US veterans who liberated them, will join German Chancellor Angela Merkel. German Chancellor will address to the attendees and later will lay flowers at the memorial for those who perished in the camp. Another important figure due to attend the ceremony is the President of the Central Council of Jews in Germany, Mr. Josef Schuster.
Chancellor Merkel spoke about Germany's 'particular responsibility' 7 decades after the war and also warned that one must not draw a line under the history. She urged that Germans has the responsibility to handle what was perpetrated under their name in WWII attentively, knowledgably, and sensibly.