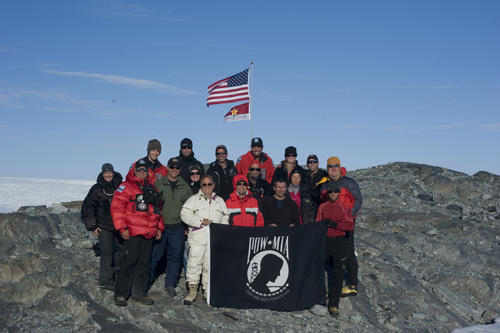 Cumming, Georgia – Edwin Richardson sees a glimmer of hope in finding his long-lost father, a WWII serviceman who kind of "faded from his life" when he was just a boy.

Coast Guard Radioman Benjamin Bottoms just turned 29 years old when he disappeared along with pilot Lieutenant  John Pritchard and an Army Air Force Corporal Loren Howarth. Aboard a J2F-4 Grumman Duck, Bottoms along with Pritchard had just rescued two Army airmen from a crashed B-17 in 1942. They rescued the third man in the crashed aircraft, which was Howard, and was on their way to the ship when the plane carrying them suffered the same fate – it fell down in a snowstorm on a Greenland ice cap and vanished.
It has already been seven decades since the said occurrence but the bodies of the three men were never recovered.
"In some ways, you might say he kind of faded away, since he never came back. He was off like he always ways on deployment. But my mother, it really upset her to no end … I don't think she ever stopped loving him," Mr. Richardson, Bottoms' son, said then added, "My mother kept thinking — she was still hoping that a couple of years later that maybe the Eskimos found him and that he was maybe living up there somewhere."
Growing up,  Edwin Richardson always believed his father was coming back, in part because his mother, Olga, had also believed he would. he may have passed through much of his life without the influence of the Coast Guard Radioman but he had wonderful memories about him.
Eventually, Olga remarried and her new husband adopted her son, thus, the change of surnames – from Bottoms to Richardson. Edwin admitted doing the change was a tough decision and is the main reason why the Coast Guard had a difficulty tracing him years later for the new updates about the whereabouts of his father's case.
But  few years ago, they managed to get hold of him and informed him of their recent efforts to get Bottoms home in a search dubbed "duck hunt" started at the at Coast Guard headquarters.
Like any other searches, this one started with the SOP – paperwork, fly-over and surveyors currying through the ice. Finally, a team consisting of Coast Guard personnel, scientists and explorers returned to Koge Bay, Greenland and were able to find breakthroughs about the crash site last 2010.
The team had melted ice in certain spots within the area so that they could lower a camera specially designed for the said exploration. The device revealed black cables underneath the ice consistent to the specific aircraft which carried the three missing WWII servicemen. Since then, the crew had been consistently working on the project.
"The story of the Grumman Duck reflects the history and the mission of the Coast Guard, and by finding the aircraft we have begun to repay our country's debt to them," Cmdr. Jim Blow from the U.S. Coast Guard Office of Aviation Forces said in a statement.
He further described the three missing WWII servicemen as "heroes who made the ultimate sacrifice for their country".
The original expedition had been followed by two more searches but sadly, the most currently deployed investigation "did not result in recovering/repatriating remains of the crew."
"Additional evidence of debris of a potential aircraft was identified in the ice, but not recovered due to weather and logistical challenges. Mission planning is currently under way to capture lessons learned to aid in a future mission," Blow said.
Edwin Richardson is not the only one who is closely monitoring the advances in his father's case. Another family member, Cumming City Councilman Rupert Sexton, has also been in it as Bottom's is a distant cousin of his, his grandmother being a sister of Bottom's father.
"Not only is he a relative, but he lost his life trying to protect our nation. He put his life on the line for others … his remains need to be found and placed here in the state for his family," Sexton spoke out.
He also added that the family would have not known about the recovery operations if not for his publicized ancestry information. According to him:
"I'm the only contact that ever got established with them … so the Coast Guard keeps me up to date. I'm just glad they found my stuff to make the connection. I was the last straw they had."
Finding Sexton who was an ardent genealogist was like getting the tip of the iceberg, he eventually led to other Bottoms including Dennis who, like Sexton, is a distant cousin of the missing WWII serviceman. Dennis has also expressed his excitement over the search for their lost relative.
"I think it would be real nice if they were able to recover his body, that he will have some recognition for his sacrifice … that would be a nice thing to do. We're very proud that someone in our family was very brave," he said.
Benjamin Bottoms spent his early years in Cumming but his family relocated to Marietta when he was older. he went to Marietta High School, got married to Olga and eventually moved to Massachusetts to be near his wife's family.
Though his body remains missing until now, he was awarded the Distinguished Flying Cross shortly after he died for "heroism and extraordinary achievement in the line of his profession as radioman" when he saved the two airmen.
His story is not just known within his family circle. A book was also written about it along with other Greenland crashes – Frozen in Time, authored by Mitchell Zuckoff, a Boston University journalism professor.
In the said book were the two airmen rescued by Bottoms before he disappeared – Alexander Tucciarone and Lloyd Puryear.
"I'm so grateful for the two men who saved his life. He lived for another 50 years after that," Peter, Tucciarone's son, said as quoted in the book.
For his side, Richardson, who currently resides in North Carolina, has expressed how proud he is of his father and even though his mother is now dead, he believes she would be happy if the search becomes successful and her first husband is at last returned home.
He said that if his father's remains are found, he plans to bury him in Marietta National Cemetery where there is already a headstone and memorial marking waiting for him; this where his father also first met his mother.
"It's just a little bit of unfinished business. But the story is quite alive within the Coast Guard, which did surprise me.

They've already made such an effort to bring him back, I just hope that they're able to. I know my mother would be happy," he said about finding the remains of his father.
– Army Times reports; Additional notes from Top News Today