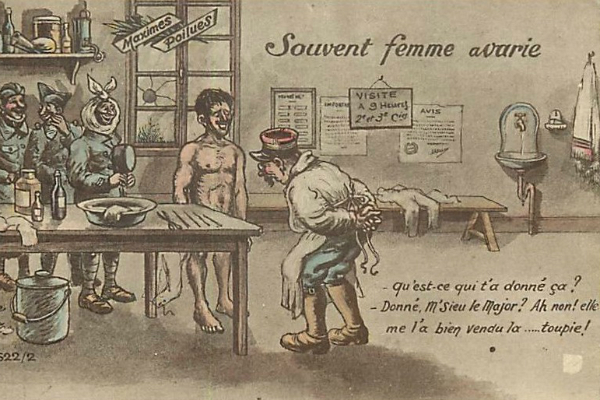 A little talked about subject, but during World War One historians have now revealed that French troops were not only watered, fed and armed, they were also supplied with brothels to satisfy their every masculine need.
The front line is not the place you would expect to find a brothel. But the French government dedicated specific funding and coordination to set up the supply of prostitutes to soldiers on the forefront of the war effort. A new memoir of World War One by Dr Léon Bizard says how the women would live and work in terrible conditions, often seeing 50 to 60 men every day. All of this at risk to their own lives due to the continuous danger of being killed themselves by bombs or attack.
Dr Bizard says that to this day, where the troops are so too are prostitutes.
The industry grew during the war years, as soldiers away from their wives, girlfriends and families were starved of female company.
Another author, Lieutenant Colonel Christian Benoit, has investigated this phenomenon in his book 'The Soldier and the Whore'. He explains that due to the simple fact that even today the majority of troops are large groups of young, single men who want the company of women at times.
World War One grew the industry, but disease also spread with around 20-30% of troops getting syphilis. French Army medical units became so uneasy about the situation that in 1915, they implemented clinics to treat the men, as well as try to treat the women.
To take control of the escalating epidemic, the French Government finally decided to set up its own brothels, whereby it could manage the health of the women and improve facilities. They were often set up near training camps in rural areas, however it remained unregulated, the France 24 reports.
While France sought to manage its soldiers' needs, other Allied forces such as the US banned it completely – none of its troops were allowed to visit brothels. If they did they were told to report it and receive treatment immediately, otherwise they would only receive half pay.
The French Government continued this initiative throughout the 1900s. It subcontracted brothels during World War Two in North Africa and Germany, during the Indochina War in the 1940s and 50s, and in metropolitan France up until the late 1970s. Its last brothel in French Guiana, Africa, closed in 1995.