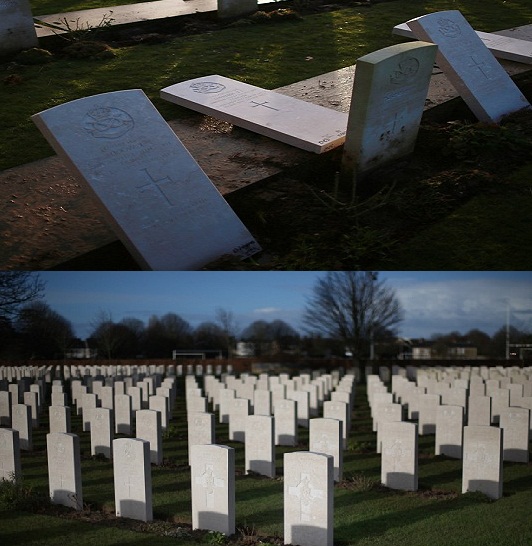 Graves of fallen British servicemen buried in French cemeteries are given a makeover – by replacement of fallen and damaged headstones – in preparation for the coming WWI Centenary and 70th D-Day Anniversary.
Workers of a French and a Belgian company are working on replacing all the 4116 headstones in Bayeux War Cemetery located in Arras, France as well as the others found at the Canadian cemetery in Cinthaux and the Ranville cemetery. This headstone replacement project is commissioned by the Commonwealth War Graves Commission, the office assigned to look after the memorials and cemeteries at over 23,000 locations in 153 countries.
Many soldiers lost their lives in the Battle of Normandy, thus, they ended up being buried in Northern France. However, their distinctive headstones of white limestone have not been replaced since WWII ended resulting to many suffering from poor condition to the point that names of the soldiers engraved on the monuments are unreadable.
There are 8,329 white limestone headstones that need repairing or replacing.
"Often it's impossible to read what's written on them – like the name of the soldier, the regiment's insignia, the date of death, his age and his religion," William Moody, of the Commonwealth War Graves Commission (CWGC), said.

He added that many of the old limestone headstones will be destroyed and will be replaced with marble-like grave markers coming from Botticino, Italy.
The Commonwealth War Graves Commission (CWGC) takes charge of 3,000 cemeteries in France with the British government providing 80 percent of the office's budget.
It can be remembered that Ranville was the first French village to be liberated by the  British 13th Parachute Battalion, under the command of Lieutenant-Colonel Peter Luard, from the Nazis.