February 25, 2015 – Four Aussie WWII vets were given the highest French military honor – the Légion d'honneur – in a ceremony that took place in the French Embassy in Melbourne.
The four Aussie WWII vets who accepted their Légion d'honneur during the ceremony were Ronald Cleaver, James Coulter, Denis Kelly and Donald McDonald. The men were clearly moved to tears during the said awarding event. French ambassador Christophe Lecourtier was the one who did the honors of presenting the awards to the Aussie vets in behalf of France.
Donald McDonald, one of the four Aussie recipients of the French military honor, burst into tears when Lecourtier pinned the medallion on his left breast.
According to the Aussie WWII vet, he couldn't help but think about his crew of five Englishmen and one New Zealander as they had been close with each other. He was the only one left after WWII ended. He added that there were others who were deserving or even more deserving than him in receiving the honor. He was just lucky that he was the one who got a return ticket home when other WWII soldiers were not so lucky and had to sacrifice their lives in line of the war.
Denis Kelly, another Aussie vet who was sitting beside McDonald and had comforted him when the latter broke down into tears, recounted how he was badly injured when he and two others of his comrades bailed out of the Lancaster bomber ripped by a German fighter. They were fortunate to have come out of the firing alive but were unlucky as their parachutes landed on hostile enemy territory in northern France.
Because of a rough landing, his right leg was damaged to the point that he couldn't walk, he said. So, when he got hold of the two others from his crew, he told them to go ahead without him. Left alone, he recalled how he, who was twenty at that time and was a radio operator, started to cry as he was sure that he was going to end up being a prisoner of war and he just felt so helpless. Just before dawn that day, he passed out after trying to drag his battered self to safety
But it seemed luck was on his side as he was woken up by a Frenchman whose foot was nudging him, testing to see if he was alive. That Frenchman went on to save his life as well as other French villagers until he was able to reach a hospital.
"I'm the only one alive. So I'm accepting this on behalf of the others," he said with tears springing from his eyes.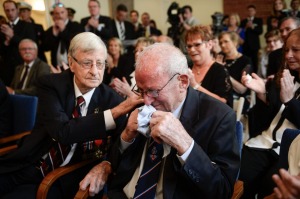 In his speech, French ambassador Christophe Lecourtier described the four Aussie WWII vets as "true knights of liberation" and in giving them their awards, he looked at each of them in the eye uttering the French word "Merci" summing up the gratitude and acknowledgment his country have for these soldiers who helped liberate France from the hands of Nazi Germany in the Second World War.
A fifth Aussie vet, Keith Stevens, was set to receive the same military honor with the four men that day. However, he was unable to attend because of an illness he sustained from a fall two days prior to the ceremony.
Myriam Boisbouvier-Wylie, Honorary consul general of France in Melbourne, is said to present the award to the WWII vet in a hospital service when he is well enough.