A World War Two female veteran pilot has been honoured with a fly past as she turned 99 years old.
Dorothy Olsen turned 99 this week and spent her birthday at Boeing Field near Seattle, where she and other veterans could watch a fly past of vintage war-era aircraft.
During World War Two there were around 1000 women pilots, who were flying 22 various types of fighter aircraft. They would not be involved in combat missions, but would transport the aircraft from the manufacturing factories to air bases across the United States.
Once delivered male pilots would then fly them overseas for use in the Pacific and in Europe.
Dorothy says that she's been lucky to have such a long and fruitful life. She reminisced that she loved flying the fighter planes, especially when she could fly them at fast speeds and low to the ground.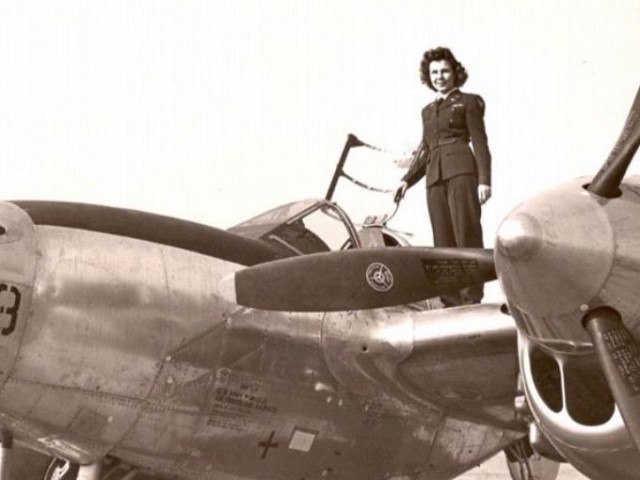 Dorothy Olsen standing on a P-38 Lightning
The vintage planes that took place in the fly-past at Boeing Field are part of a World War Two re-enactment taking place. They will fly from Montana to Russia, which was the route the aircraft took during the war in order to deliver vital air support to the Soviet Union as it advanced west into Europe.
The female core Air Force was also established in the UK, where thousands of women were recruited to the Women's Auxiliary Air Force to ensure that aircraft could get from the factories to the air bases as quickly as possible. In the US the female Air Force core was known as the Women Airforce Service Pilots, and was most often called the WASPs, the NBC News reports.
They were established in 1942 and were pioneering for the role of female pilots both in the military and in commercial flying. At the height of the war, there were more than 1000 American women in the WASPs and they flew more than 60 million miles to get all types of aircraft across the US. WASPs were given veteran status in the 1970s and were also honoured for their role during the war with the Congressional Gold Medal.
Most of the women who were chosen to join the WASPs were already pilots and had licences.