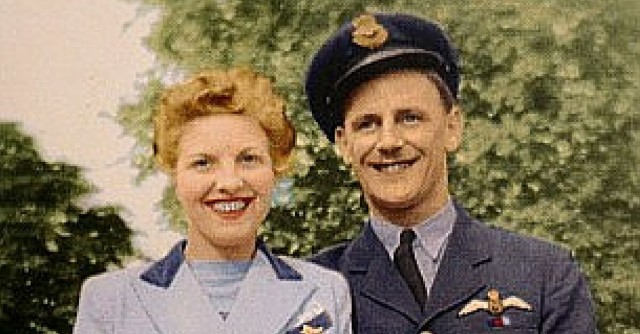 On 13th January 1942, Charles Fergusson looked into the eyes of Doris 'Pat' Ackerman, his blue-eyed English rose and quietly said "I do".  After a short, sweet romance the quiet New Zealander, who was born in Hastings, New Zealand in May 1921 married his pretty North London sweetheart, with both promising each other that this wartime romance would last forever.
He was one of five children born and raised in the fertile surroundings of Hawkes Bay, to Francis Fergusson who was a plumber and his wife Rose.  Charles, who was better known as Chook, did well at school and was a natural sportsman excelling at rugby and swimming.  After school he worked for a couple of years as a carpet fitter and with the advent of the war he enlisted into the Royal New Zealand Air Force where he underwent pilot training.  Soon he was posted to England and flew with 3 Squadron, transferring later to 607 Squadron.  There he met his wife who had enlisted in the British Army as a member of the Auxiliary Territorial Service.
After extracting a promise from his young bride that should anything happen to him she would travel to New Zealand and meet his family, he left with 607 Squadron to provide air cover against the Japanese over Burma.  On Christmas Eve 1942, Chook was flying over Burma when he encountered Japanese fighter planes.  Chook's wingman warned him that he had two fighters on his tail and seeing tracers flying past his cockpit he pushed the stick forward and went into a vertical dive.  His squadron mates had seen Chook's Hurricane spiral down to the ground and burst into flames, but they had not seen a parachute, so he was reported as KOAD or Killed on Active Duty; devastating news for his young wife and his family in New Zealand.
Chook had, by some miracle survived the crash.  His aircraft, by a strange twist of fate, had exploded meters before hitting the ground at around 300 mph.  The force of the explosion had thrown him up and out and when he came down he landed in the Irrawaddy River.  The water both broke the impact of the fall and doused the flames from his burning flight suit.  It was astonishing that he survived. He remembered standing dazed and seeing his plane burning when two Japanese soldiers captured him.  He was unable to draw his service pistol because his hands, face and groin were seriously burned and he had broken his left wrist.
He was placed in the care of an English speaking doctor who treated him very well but the following day his descent into hell began; the Japanese military arrived to interrogate him.  Chook recalled the officer in charge demanding to know what squadron he was from and Chook responded by saying, "You know I cannot tell you that."  This response drove the Japanese officer insane with rage and he yanked the bandages off Chook's head and dragged him up a hill.  They pushed him down onto the ground and the officer drew his sword.  Chook remembers waiting for the blade to descend on his neck, but before the Japanese officer could behead him, a car arrived with a more senior officer who stopped the execution.  The Japanese believed that he was a spy, as they could not comprehend how he had survived the plane crash, so in addition to the inhumane treatment meted out by the Japanese as a prisoner, he was also subject to interrogation by the Kempeitai, the Japanese secret police. He was brutally interrogated for a period of time.
After weeks of interrogation, an emaciated and pain wracked man, Chook was released into the general POW population.  He remembers one of the prisoners, Captain Brian Weston, saying, "Terrible, an old man like that coming in here." He thought Chook was over 70 when in fact Chook was only 21.  Chook remembers the prisoners being subjected to torture, near starvation and beatings, hangings and beheadings were regular occurrences.
His most horrific memory was of the cannibalism practised by the guards when a Canadian pilot was brought into the camp.  Obviously he was fit and healthy, having just been shot down and he had welcome news for the other inmates as he brought them good news on the progress of the war.  One day he vanished and the POWs heard a single shot.  That evening there was a strong smell of cooking coming from the camp kitchen.  A short time later some POWs on a work party dug up the remains of the Canadian pilot and they made a grisly discovery; his internal organs had been removed including the liver and heart.  The POWs in the camp went berserk when they realised that the Japanese had killed the Canadian and eaten some of his organs.
Chook, true to his upbringing, refused to be intimidated by the guards and he stood up for other prisoners when they were being brutalised and he refused to bow to visiting dignitaries.  This meant that he was singled out for especially brutal treatment.  Prisoners in the camp suffered diseases such as  beriberi, scabies and ulcers from the poor diet and outbreaks of dysentery were common.  Eventually after being interred for two and a half years, Chook along with the other POWs were released from Rangoon Camp on 5th May 1945.  His first act of freedom was to raise the Union Jack over the camp.  Chook weighed 12½ stone when he was shot down; when he was released he weighed only 5½ stone.
Having survived a horrific ordeal, Chook was too nervous to contact his beautiful wife directly.  He was so concerned that she had remarried as he had been reported dead.  Instead he sent a telegram to his father-in-law, Frank Ackerman, saying, "Pop, If Doris hasn't married again, can I come home? Love Chook."  Tears and smiles abounded and though Pat was engaged to an American airman, she had refused to marry until she was certain that Chook would not return. She immediately broke off the engagement as her love for Chook was still just a strong and they were reunited in November 1945, on Chook's return to England.   Chook then discovered that his wife had kept her promise and on being told of his 'death', she had travelled to New Zealand where she spent several months with his family.
Early in 1946, the couple set sail once again for New Zealand where they would live for the rest of their lives.  Chook worked again in the carpet laying business until he earned enough to buy a 150-acre dairy farm on New Zealand's North Island near Tokoroa.
This brave man who went to hell and back, refused to discuss his wartime experiences for over fifty years.  It was just too painful and the memories of the human suffering and beheadings that he was forced to watch were too horrifying, all reflected in the nightmares he suffered and the nervous breakdown that he experienced.  His refusal to discuss this was for the very noblest of reasons; he wanted to protect his family.  One can only hope that by finally telling his story to his good friend, Bryan Church, he found some modicum of peace.  This story told to Chook's family after his funeral is the tale of an ordinary man, pushed into extraordinary circumstances and his survival of those circumstances with pride, dignity and compassion.
Flight Lieutenant Charles 'Chook' Fergusson was laid to rest under the purple blossoms of the Jacaranda trees in Section J of the Taradale Services Cemetary on New Zealand's North Island.
Another fact that only came to light long after Chook's death was that he had so inspired, Patrick Bronte, a young man that had been seriously injured and paralysed from the shoulders down in a diving accident, that he set up a project Nga Toa (translated from Maori as 'Many Warriors').  This project was designed to record the oral history of New Zealand servicemen.
On a lighter note, Chooks death-defying survival of his crash makes him a member of the 'Gannet Club'.  This club is named after the sea bird that plummets out of the sky vertically to hunt for fish.  Less than 20 servicemen, all of them survivors of plane crashes without a parachute during the war are members of the club.  Every one of them had the impact of their fall cushioned by something such as water, snow, or trees.
Charles 'Chook' Ferguson is an inspiring figure and shows that a human can almost endure anything.