Cole Stegeman has fulfilled childhood dream of becoming a fighter pilot in the United States Air Force. Now a flight commander of a fighter squadron at an air base in Mississippi, he explained that the path he has blazed is now being followed by another Jefferson City, Missouri airman whose career he continues to watch with great enthusiasm.
Born and raised in Jefferson City, Stegeman graduated from Helias Catholic High School in 2008 and received a congressional nomination followed by an appointment to the United States Air Force Academy at Colorado Springs, Colorado.
"I've grown up wanting to do one of two things—play professional baseball or fly fighter aircraft," he excitedly explained. "I grew up being enthralled watching airplanes at air shows. Also, both of my grandfathers were in the service and kind of pointed me toward the Air Force," he added.
After reporting to the academy in June 2008, Stegeman spent the next four years completing a rigorous academic course of instruction in addition to any extracurriculars dictated by his leadership, which included jump school and survival training. During his junior year, he was advised that he would receive a slot for pilot training.
Upon graduation from the academy in 2012, he received his commission as an officer and began the first step in his advanced training track to become a pilot. Initially, he reported to Pueblo, Colorado, for his Initial Flight Screening to determine his aptitude for flight.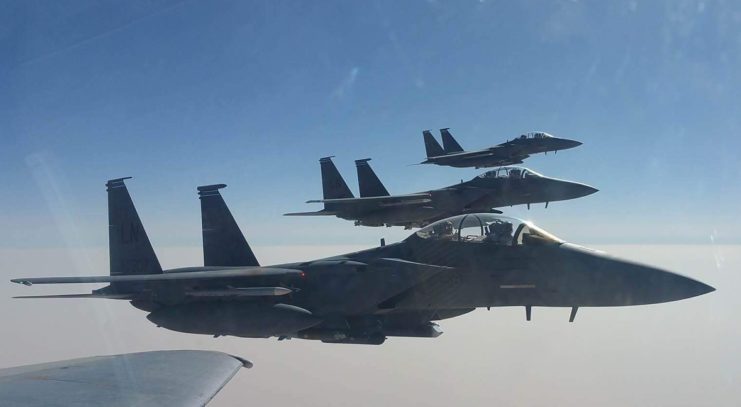 When successfully completing the screening, he was sent to Specialized Undergraduate Pilot Training at Columbus Air Force Base in Mississippi. It was here that he was introduced to basic flying skills aboard the T-6 Texan—a two seat, single-engine primary trainer. The budding aviator later advanced to the T-38, a two seat, supersonic jet trainer.
During initial flight training, he was selected to enter the "pipeline" to become a fighter/bomber pilot, remaining in Mississippi to undergo the Introduction to Fighter Fundamentals Training. When finishing in late 2014, he was transferred to Seymour-Johnson Air Force Base in North Carolina for further survival training and detailed instruction on piloting the F-15E.
According to the official website of the United States Air Force, the F-15E Strike Eagle "is a dual-role fighter designed to perform air-to-air and air-to-ground missions" and is equipped with "(a)n array of avionics and electronics systems (that) gives the F-15E the capability to fight at low altitude, day or night and in all weather."
Stegeman recalled, "The air base in North Carolina was home to my formal training unit. Being assigned to the fighter track was highly competitive and merit-based; you had to demonstrate your aviation competencies and perform well enough flying the T-38s to be considered for further training as a fighter pilot."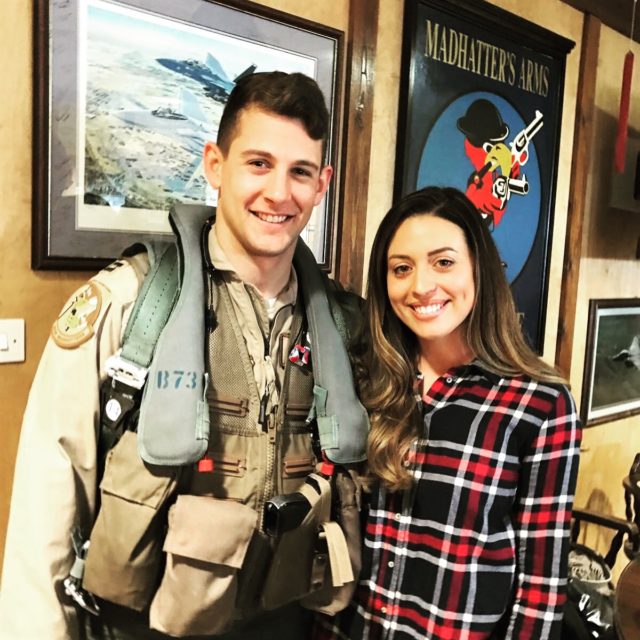 May 2015 brought with it the excitement of his first duty assignment when he was transferred to the 492nd Fighter Squadron (nicknamed the "Mad Hatters") stationed at Royal Air Force Lakenheath in Suffolk, England. In the three years he was there, he attained the lofty distinction of 1,000 flight hours and deployed twice to Turkey in support of missions in Syria and Iraq as part of Operation Inherent Resolve.
Combined Joint Task Force – Operation Inherent Resolve (CJTF-OIR) was formally established by the Department of Defense on October 17, 2014, formalizing the continuing military actions against the increasingly deadly threats posed by ISIS in Syria and Iraq.
A CJTF-OIR mission statement fact sheet notes the primary mission of the task force against enemy forces is to "disrupt their ability to command and control their fighters, remove their safe havens, interrupt their revenue streams that fund their operations, destroy their equipment and kill their fighters."
Returning to Columbus Air Force Base in 2018, Stegeman had garnered enough flight experience to become a teacher for the eight-week course known as Introduction to Flight Fundamentals, which is designed to transition newly graduated pilots into fighter wingmen. Assigned to the 49th Fighter Training Squadron (Black Knights), he has since achieved the rank of captain and is now a flight commander.
Captain Stegeman is married to the former Sarah Bruemmer of Jefferson City and the couple are proud parents to a young son, Abel. Though his military career and growing family are a source of pride for the young airman, he is also delighted to witness the achievements of a fellow Helias graduate who is following a near-identical career path.
"Jared Rackers graduated from Helias a few years after me and was also selected for the academy," said Stegeman. "He is in the career pipeline to become a fighter pilot on the F-15C, and I really believe it's such a small world that there are two of us from the same high school in the same small town who go on to earn similar opportunities available to so few."
He continued, "This is something that I have always wanted to do—to fly fighter aircraft in the Air Force. It has always been a dream for me and fortunately I was able to make this dream come true."
---
Jeremy P. Ämick writes on behalf of the Silver Star Families of America