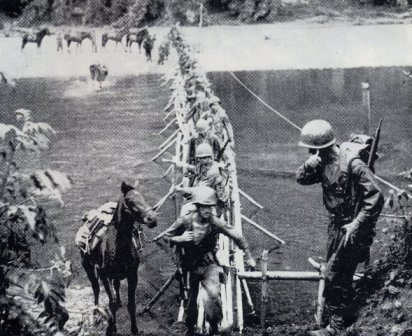 Merrill's Marauders was the nickname for the 5307th Composite Unit during World War II. One of their deadliest excursions was in Burma, in 1944. They went into Burma with over 2500 men, but arrived at their mission site with less than a fifth of their initial headcount. Some of these were due to battle, others to malaria, but Merrill's Marauders learned quickly that they were subject to receive kills as easily as to dole them out. They would have less than 50 survivors by the time they went home.
Several of Merrill's Marauders on that particular trip were there as replacement troops, one unit of which had to endure over a month of transport to get there. With the goal of taking over a Burmese airfield, the troops spent over two months in foxholes during monsoon season. They eventually completed their mission to take over Myitkyina Airfield, but their tour was far from over.
The troops next took part in the Battle of Tonkwa before joining the MARS Task Force. Their goal with the task force was to hurt the enemy's survival ambitions by taking out one of their supply lines. They were due to hit their enemy at Burma Road, and got there in 1944 to find the Japanese heavily guarding the supply line. Merrill's Marauders won the day through artillery fire, but not before losing many, many soldiers.
By that point, some of those soldiers who had been working on a point system had earned enough to return home. Others were ordered to China, to work with trainees there. One such trooper, a truck driver by the name of James Stevens, was not able to return home until December 31 of that year. He was one of the lucky few to live a long and happy life, settling down with a wife and five kids who would give him several grandchildren. Although he worked until 1986 outside of a military capacity, he never forgot his work for Merril's Marauders, the CantonRep.com reports.
Stevens went to see the World War II Memorial in Washington in 2010, and over the course of his long life has attended several reunions of Merril's Marauders, missing only one of them. While not many survive, he has kept in touch with their surviving families, including the son of at least one man whose death he witnessed early in his Burma career. While he experienced many dark moments in his time with Merril's Marauders, he is able to remain proud for all his unit did to aid the Allies in the war effort.
//