Friends, we are pleased to announce that Enlisted is almost ready to move into open beta-testing (OBT)! From April 8th, 2021 the game will be ready for new armies of players.
After the closed beta test is over, the game will get a content update. For example, the 'Invasion of Normandy' campaign will get the Browning M1918A2 machine gun and a legendary paratrooper FG 42 II assault rifle, as well as the American P-38 J fighter and the German Pz.IV H. tank. In the 'Battle for Moscow' campaign you'll get the DP-27 machine gun, SVT-40 sniper rifles, the Gewehr 98 with scope mount, the PzB 39 anti-material gun, as well as SB-2M and Ju-87 R airplanes.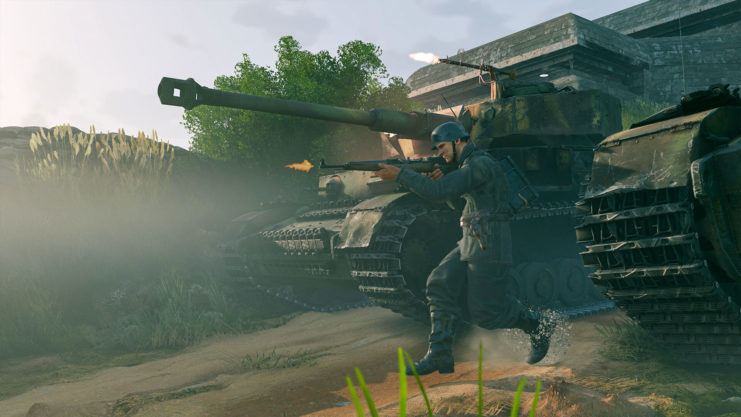 Both campaigns will get anti-tank landmines and other historically accurate weapons and vehicle models, as well as new missions. We will launch the reworked rewards, battle tasks, progress and logistics for squads and soldiers system. More about OBT content will be disclosed in following days in separate development blogs. We are grateful to all those who have supported Enlisted by purchasing founder packs with premium squads and exclusive weapons. They are still available for purchase until the end of CBT (8th of April). But you will not be able to buy them afterwards, as those squads will be forever exclusive only to those who have supported the game in the early stages.
About Enlisted
Enlisted is a squad-based first person MMO shooter covering key battles from World War II. The game carefully recreates weapons, military vehicles and the atmosphere of that era, while demonstrating really massive clashes of numerous soldiers, tanks and aircraft with artillery and naval support.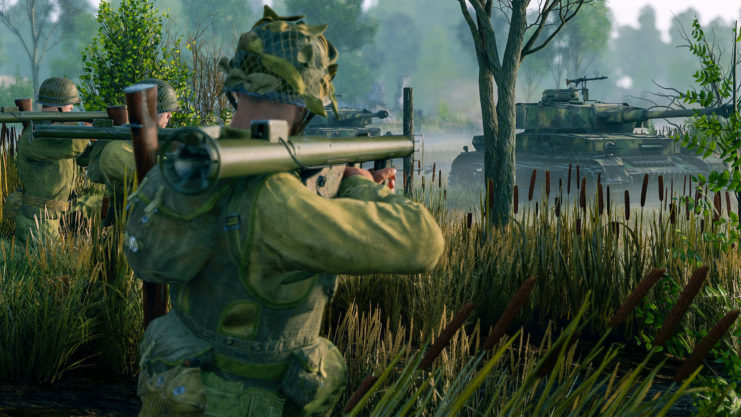 Most of the Enlisted game modes simulate a battle involving several infantry platoons and gives the player control over a squad of soldiers with various roles (i.e. submachine gun soldier, sniper, radio operator, rifleman and others) or a whole military vehicle crew. One of the fighters is controlled directly, while others move and shoot independently following the player's general orders. In a situation where all the soldiers in the squad have fallen, a player respawns with the next available squad. Right now Enlisted developers are testing modes with up to 20 players and up to 140 soldiers simultaneously in one session. This decision makes Enlisted battles look massive and spectacular while keeping the input of each individual player in the overall team victory quite significant.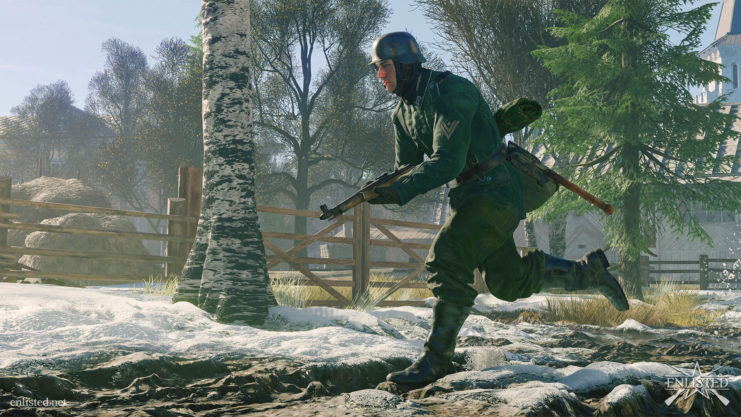 Enlisted is developed by Darkflow Software studio using Dagor engine – the same engine that is used by Gaijin Entertainment's War Thunder military online action game. That's why the accurately recreated ground vehicles and aircraft look, move and are controlled in the most realistic way and their damage model is quite sophisticated. For example, when a shell breaks through a tank armor, the trajectory of individual shards is properly calculated as well as the exact consequences to each vehicle part and crew member.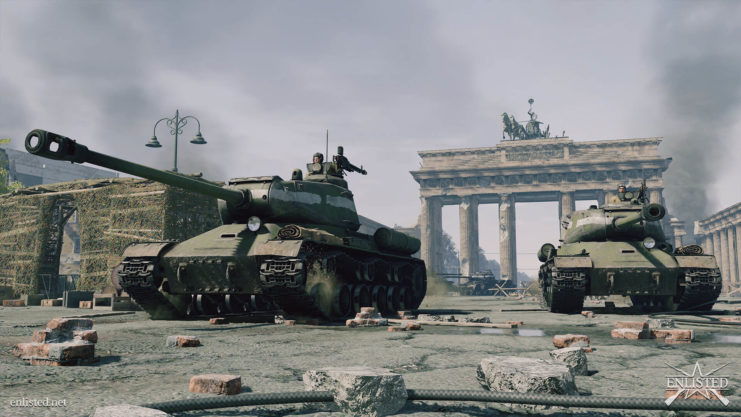 Features:
Epic massive battles that look as massive as the historical battles, like the Omaha beach landing. The number of enemies that a player encounters is sometimes more than the number of bullets left, but this is fine because a couple of hits is usually enough to kill a soldier.
High input of each player in the team victory: Despite the massiveness of the battles, the result is significantly defined by the performance of each player (they control 1/10 of the team force, while without the AI-controlled squad system this figure would fall to 1/70). The actions of just one player can turn the tide in a whole massive battle.
The diversity of game roles and the ability to switch between them on the fly: one minute you're storming enemy trenches with a submachine gun, the next, you're hiding on a roof with a sniper rifle, and you can also jump into a tank to break through the defenses, throw grenades towards the enemy vehicle or provide air support to your teammates.
Enlisted looks realistic even in the tiniest details, like the appearance of soldiers and buildings or a tank's damage model. The list of vehicles and weapons available in specific missions is also based on real history, so you cannot use equipment from 1945 in a battle that took place in 1941.
A player can customize and train squads according to their individual playing style, unlock perks and upgrades as long as this does not contradict the historical accuracy principle.
About Gaijin Entertainment
Gaijin Entertainment is the developer and publisher of the online games War Thunder, Crossout, Cuisine Royale and Star Conflict as well as PC, Mac, Linux, PS4, Nintendo Switch, Xbox One, iOS and Android titles across several genres. The company's diverse portfolio has received a range of mass media and game industry awards including such as Gamescom Award and many more. Official website: http://gaijinent.com/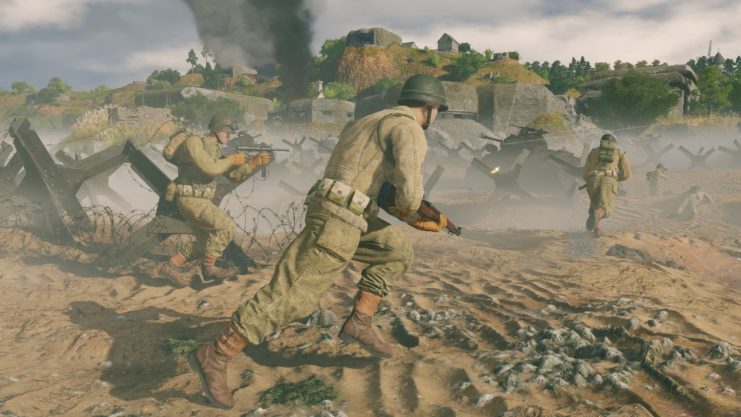 About Darkflow Software
Darkflow Software is a game studio founded in 2016 by video game industry veterans and is located in Riga, Latvia. Currently, the company is working on the squad based multiplayer WW2 shooter Enlisted.