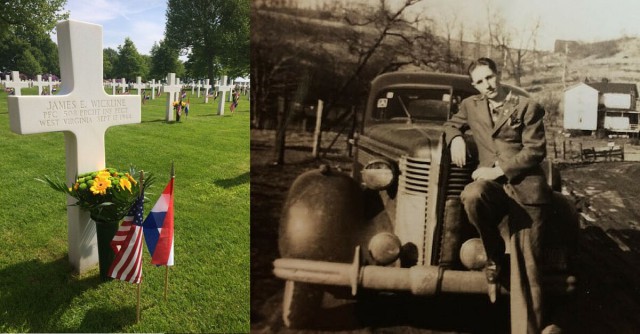 A new film is being made about a Dutch man who has tended the grave of a West Virginian World War Two soldier for more than 13 years.
During Maarten Vossen's childhood his grandmother would tell him stories of how the American troops would help out the locals in the Netherlands and give them gifts of chocolate, when they liberated the country from the Nazis in 1944.
It was his grandmother's stories that inspired Maarten to find out more about World War Two and then he came across the American military cemetery in Margraten. He found out that it was possible to adopt a grave.
Maarten was 13 years old in 2002 when he adopted one of 8,300 American World War Two graves that span 65 acres at Margraten and was charged with looking after it. All of the graves in the cemetery have been adopted by local families in the Netherlands (and Belgium) and it is their duty to look after the grave sites.
Maarten adopted the grave of US Army Private First Class, James Wickline.
Maarten said that he knew straight away that James had given his life so that the people of the Netherlands could be free. Once Maarten adopted the grave, he began t research more about James and was able to get his file from the US Army Command.
There were letters from James's mother to the US Army desperately asking for more information about her only son. Maarten continued his search and found out that James had grown up in a small town called Scott's Run near Morgantown, West Virginia.
James had joined the Army after graduating from high school, and joined the 508th Parachute Infantry Regiment.
James took part in the Allies' Operation Market Garden where hundreds of paratroopers were dropped behind enemy lines in Holland, but James's parachute didn't open when he jumped out over the Netherlands. He died on September 17th 1944 and was just 21 at the time.
The operation became famous after the 1970s movie A Bridge Too Far told the story.
Even though the actual planned mission was not a success, the Allied invasion did lead to the liberation of the Netherlands, the WVPublic.org reports.
Maarten eventually visited West Virginia in 2012. He found Morgantown and tried to speak to some of the locals about the Wickline family but drew more dead ends than answers. However, with the help of a local journalist a few years later he was able to locate James's yearbook and other documents.