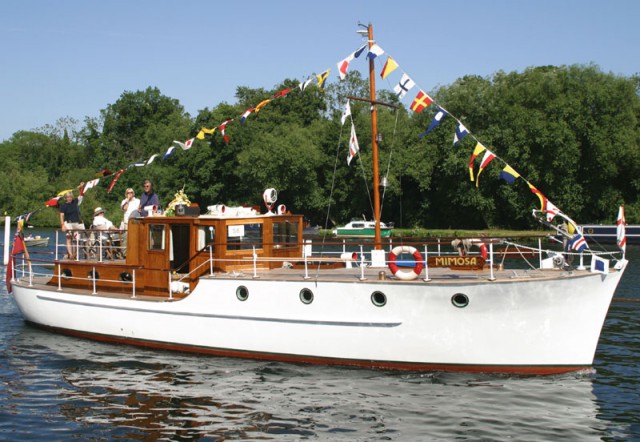 On the 75th anniversary of the evacuation of Dunkirk, some of the original wooden boats that went over to rescue the Allied soldiers from France have sailed back to Dunkirk for the commemorations.
Over 340,000 Allied soldiers were trapped on the beaches of Northern France as the German Army advanced and took occupation of the country. All manner of military and non-military vessels were sent from the south coast of England to rescue the soldiers in the biggest evacuation of World War Two.
19 small boats, which were part of the 800 boats that took part in the original evacuation, gathered at the Royal Victoria Dock in East London before setting sail for Dunkirk.
Anticipating bad weather, the boats left London a couple of days ahead of schedule so that they would make the crossing to France safely.
The boats are kept and maintained by the Association of Dunkirk Little Ships and the leader Ian Gilbert said that there is great pride among the group's members. He said that the ships will soon be the only reminder of what happened at Dunkirk as more and more veterans pass away.
All of the boats taking part in the commemoration are around 80 years old and are all made in Britain. The trip to Dunkirk is actually made around every five years, depending on weather conditions and ensures that the evacuation is commemorated.
Operation Dynamo took place between 27th May and the 4th June 1940. Nazi Germany had advanced through Poland, Belgium and the Netherlands and continued on into France. The British Expeditionary Force had been sent to France to try and stave off any incoming Nazi aggression. But the German Panzer Divisions drove Allied forces into retreat and cornered thousands of Allied troops in Northern France.
Just over 7,500 soldiers were evacuated on the first day of the operation alone and eight days later almost 340,000 had been rescued.
Around 39 British warships picked up the majority of the soldiers, while others had to wade through the waters of the English Channel holding on to lengths of rope to reach boats and ships which were moored out at sea.
Almost 70,000 British soldiers were lost in the campaign and all of the military weapons and equipment had to be abandoned in France, the BT.com reports.
On 4th June 1940, British Prime Minister Winston Churchill gave his famous 'We will fight them on the beaches' speech to maintain morale of the armed forces and British people.