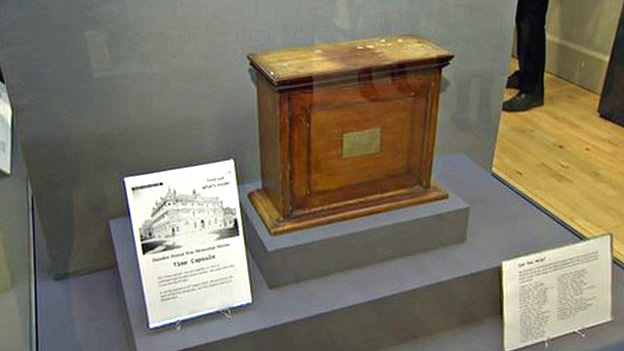 A Great War time capsule put together by Dundee postal workers is set to be opened early in August this year.
The said time capsule – an oak box with its lid lined with lead – was sealed way back in 1921 and is believed to contain Great War-time coins, stamps, letters, photographs and newspaper cuttings. The time capsule bears a plaque which identifies it as a "Dundee war memorial". It also contains the specifics in opening it — the postmaster must do the honors at the presence of the Lord Provost on the 4th of August 2014 which is the centenary of the start of WWI. The city of Dundee is honoring that.
The time capsule had been in the city postal workers' care for the last 93 years.
It has been recently handed over to the city of Dundee. It can be seen on display at the McManus art gallery until its official opening.
The city has arranged a special ceremony that day together with the Lord Provost's office, the Royal Mail and Post Office, the art galleries and museums in Dundee, the Great War Dundee partnership and the High School of Dundee which is the owner of the former post office building in 1921.
Ricky Turner, Royal Mail delivery manager, said that the time capsule presents a special link for the present post office workers to their colleagues way back in 1921. According to him, the postal service played a very vital role during the Great War delivering all those 12 million letters and parcels to the front throughout the conflict.
He then added that the time capsule is quite memorable to them having been in their care for the last 93 years. He, speaking in behalf of the postal service in general, is proud that the city of Dundee decided to exhibit the time capsule before its official opening.
Local amateur historian Janice Kennedy tracked down the said time capsule while working on her family's history.
Her grandfather had been a postman in Dundee. He made mention of the time capsule, the memorial, in his diary which had been passed down through family members. She struggled to find it by means of conventional methods.
Eventually, she asked a postman on the street about this said memorial, the time capsule, and he directed her to the Dundee East delivery office.
Miss Kennedy is now trying to find the descendants of the other postal workers who helped put the time capsule together with the aim of gathering them at the opening of the said memorial.
Lord Provost Bob Duncan, for his part, said that the time capsule gives an amazing insight to the city's history and the role postal service played during the Great War. It remains a poignant remembrance in Dundee of all the sacrifices made during the war.