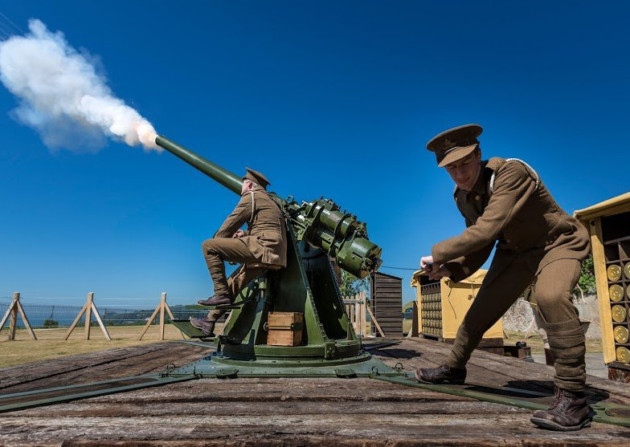 During World War One you might think there was little need for anti-aircraft artillery over the UK since the air force of both the British and Germans wasn't as developed as it was by World War Two. However a rare, original anti-aircraft gun which was used during World War One has been restored and has been relocated to Dover Castle, so that it can be put on display for visitors to see.
The three inche anti-aircraft gun is the only fully-working model of its kind, with only six left in the entire world.
The gun was built a year into World War One in 1915 and it was built to combat the very new field of battle – in the air.
The gun has been restored by historical society, English Heritage and has become part of a recreation of a World War One anti-aircraft placement at Dover Castle. Visitors will be treated to regular displays when the gun will be fired by a fully trained team of gun experts who will also be dressed in military costume of the time.
The first time the gun was fired was during Dover Castle's 'Dover at War' event at the beginning of August. The event coincided with the 100 year anniversary of the first successful British attack on a German Zeppelin using an anti-aircraft gun from the exact same position at the Dover Castle gun post.
English Heritage said that Dover Castle, because of its crucial coastal position, was of vital defence importance during both world wars. The castle looks over the English Channel at the closest point to the French mainland.
The project is aiming to bring not only the story about England's war time defences, but also the story of the soldiers who held the British front line. They would have to monitor the English Channel for possible aerial attack or sea attack. During World War One, anti-aircraft guns were being used for the very first time so it was cutting edge technology for the troops to use.
At the castle the gun position was part of a building which housed the command post and the port's war signal station which set of a siren to alert people of an incoming attack, as well as radioing in to central military command, so that they could alert the military, the Kent News reports.
Dover Castle was assigned as a fortress during World War One and was used by the British Army to as a training camp and to house more than 10,000 troops.
The project has cost almost half a million pounds and local volunteers have been recruited to tell the story of World War One at the castle to visitors.