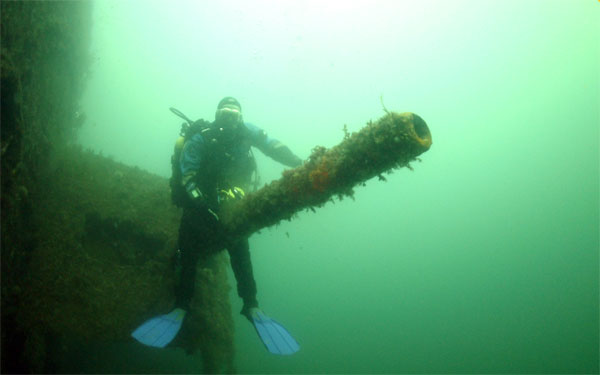 Wartime artifacts lie on the seabed where the German High Seas fleet was abandoned, as part of the terms stated in the armistice signed at the end of the First World War. Among the wrecks known to be on the seabed is the British Royal Oak, which became an official war grave for the 833 men who vanished when the ship was sunk in 1940.
I has become illegal for divers to remove any of the objects since seven German wreck sites are protected by law. However, divers are urging the Historic Scotland agency to allow them to have a better look at these objects.
The Royal Navy's Grand Fleet had its main base at Scapa Flow throughout World War I and its northern base during the Second World War. Also, the whole of the German High Seas Fleet was abandoned there in 1919. 74 German ships were cruised and left there, waiting for a decision on what to do with them, following the conditions of the peace Treaty of Versailles, The Scotsman reports.
On June 21 1919, the fleet was scuttled at Scapa Flow under the orders Rear Admiral Ludwig von Reuter, after the negotiation period had expired. Scottish ministers in collaboration with Historic Scotland, are keen to keep up the work and preserve the historical site. However, it seems that divers who do go down there are inexperienced and most of the time it just doesn't work like that. Although they are interested in the preservation of the site, according to John Thornton, of Scapa Flow Diving group, most of the people who go diving to explore the artifacts don't know the basic procedures.
John insisted that these objects should be saved for the naval history and it should be done properly and not with "little, or no, action." He also said that the objects will be suffering major deterioration because of the undersea conditions and that it will get even worse in time and plenty of these objects will soon become unrecoverable. However, John doesn't believe the consent for divers to bring up these objects will be given in time for them to be saved.
John gave an example about a diver who found the bugle used at the Battle of Jutland in 1916. It was located on the SMS Markgraf. The diver reported the discovery to Historic Scotland and offered to retrieve it at his own expense. HS got back to him and asked him to send details regarding the position of the bugle, for their own team of divers to engage in the rescue mission. The unsuccessful operation would have cost them £1,000 per day for their team. The bugle will never be recovered as the bulkhead has collapsed and there is no access to it. The diver who discovered it could have saved it in one go and at no cost.