Today the US military is one of the largest in the world by a number of personnel, with over 1.4 million active-duty servicemembers and another 850,000 in reserve. However, even this is dwarfed by the total number of Americans who served during WWII. There were new units being created continuously to manage such a large amount of people. These units needed insignia, which is why the US military turned to Disney for their artistic skills.
During WWII 16 million Americans served in the US military, which, if it was a country, would have had the 72nd largest population on the planet. This mind-boggling amount needed some seriously complex organization to maintain order and cohesion. Units are a part of this organizational system and help divide people up depending on their role and position within the military.
At this scale, many, many units were necessary, all of which needed their own unique insignia.
The artists at Walt Disney Animation Studios were the perfect answer to this.
Disney
In the 1940s Disney was already a regular box-office topper. Although it wasn't quite Avengers: Endgame level, releases like Snow White and the Seven Dwarfs (1937), Pinocchio (1940), Fantasia (also in 1940), and Dumbo (1941) were all about as successful as can be considering the worldwide turmoil at the time.
In addition to their feature-length films, Disney's short movies also proved to be massively popular and Mickey Mouse was already a global icon. In fact, Mickey Mouse had appeared on US Navy Reserve insignia before the war had begun.
This started a trend of Disney-related cartoons being used in the US military and in particular the Navy. To begin with, these weren't approved by Disney, but they eventually set five artists on the job of keeping up with the military's insignia demands.
USS Piedmont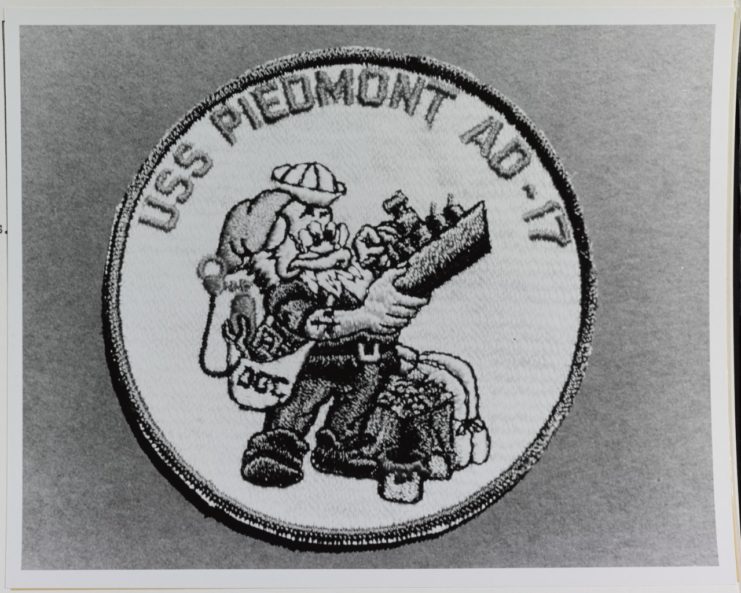 The Dixie-class destroyer tender USS Piedmont (AD-17) was a vessel with a Disney-themed insignia. Commissioned in January 1944, the ship had the important role of servicing and maintaining active-duty destroyers to ensure they were always fit for combat.
Piedmont operated in the Pacific Theater and was vital in servicing destroyers in the later intense battles of the war in the Pacific. She served in Korea and Vietnam after WWII.
The ship's insignia features Doc from Snow White and the Seven Dwarfs wearing a sailor's cap and surrounded by tools to fix a destroyer. In the image, the crew's work is represented by Doc, who is holding and repairing a vessel.
Aviation Repair Unit 1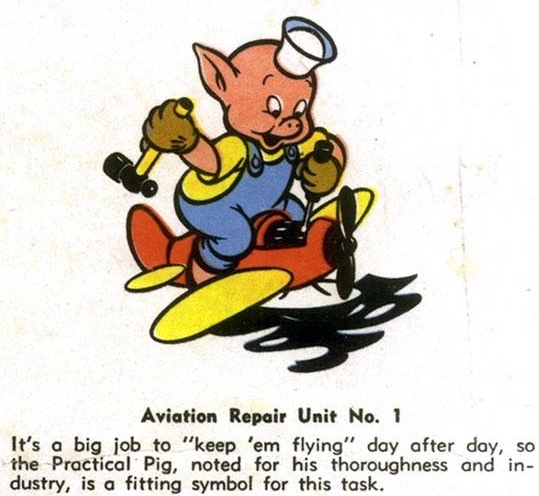 Another maintenance-based unit, Aviation Repair Unit 1's insignia is inspired by Disney's short film Three Little Pigs, which was released in 1933. In this short three pigs, Fiddler Pig, Fifer Pig and Practical Pig face off against the Big Bad Wolf.
Practical Pig is an obvious choice for Aviation Repair Unit 1's insignia, and he is seen repairing an aircraft.
MAS El Toro
The Marine Corps Air Station El Toro in California used a Disney-designed logo as their base logo. In the logo, a flying bull is displayed with the Marine Corps Eagle, Globe, and Anchor on its muscular shoulder. This was a particular choice, as El Toro is Spanish for "The Bull."
The airbase was located around 60 miles south of Walt Disney Animation Studios in Burbank and was presented the insignia by Walt Disney himself. It was used as MAS El Toro's logo until the base closed in 1999.
USS Wasp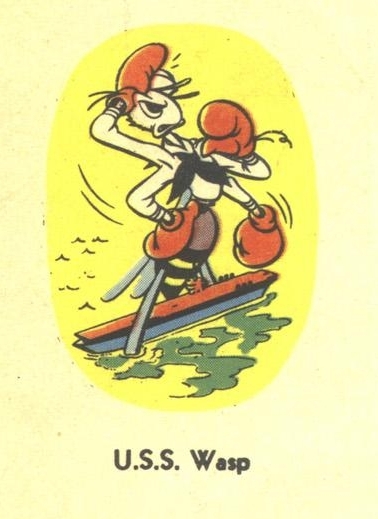 USS Wasp (CV-7) was an aircraft carrier constructed in the late 1930s and was unique for being the only ship in its class. It was only built because the US had left-over tonnage allowed to be used on aircraft carriers, as dictated by treaties at the time.
More From Us: This Military General Has A Magical Connection To Disney World
She was smaller than the Yorktown and Essex-class carriers. After being relocated from the Atlantic, she was sunk by a Japanese submarine after supporting the invasion of Guadalcanal.
Wasp's insignia represented the small-but capable vessel with a wasp in a Navy uniform sporting boxing gloves.