This documentary narrates a story about the Richard D. Winters Leadership Monument, which is in Normandy, France in 2012. Richard was the leader of the 'Band of Brothers' in World War 2, and the film show is all about him and his skills in leadership. Included in the film is an interview that has never been aired before (with the late Major Winters in it) along with interviews with the remaining survivors from the 'Band of Brothers.'
The film shows the relationships that the Major had with people post World War 2 in Normandy, this includes the family that owns Brecourt Manor. This manor was the location of a D-Day assault that Lt. Winters led to defeat the German guns that were firing upon American Troops that were landing on Utah Beach.
Richard Winters was born in 1918 on January 21st. He is famous for being in command of Easy Company, 2nd Battalion, 506th Parachute Infantry Regiment of the 101st Airborne Division during the second World War. He eventually rose to Major and ended up commanding the 2nd Battalion in its entirety.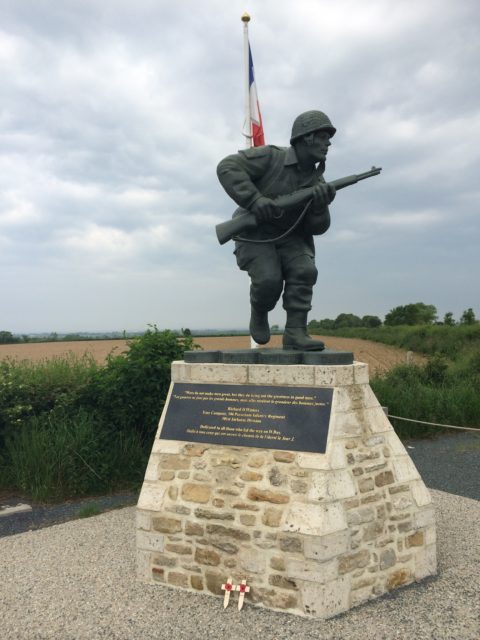 Following the War, he left the 506th and went to France where he was stationed, where he was needed to watch over the return of millions of troops. In the Korean War, 1951, Winters was called back to the US Army and temporarily served as a training officer and regimental planning officer at Fort Dix, New Jersey.
He was then given orders to go to Korea on deployment however he managed to leave the army due to a policy that allowed officers that had been inactive since serving in World War 2 to resign their commission.
Winters returned to normal life as a civilian, moving from New Jersey to Pennsylvania and set up his own business by selling chocolate products to animal feed producers. He regularly attended as a guest lecturer at the US Military Academy at West Point until he retired in 1997. Winters was the final surviving Easy Company Commander. He passed away on January 2nd, 2011.
This is the trailer of 'Hang Tough' It is narrated by Damian Lewis (2012 Emmy Award Winner) who also played Richard D. Winters in Band of Brothers by HBO.
https://www.youtube.com/watch?v=BzTt2XQ6ryM