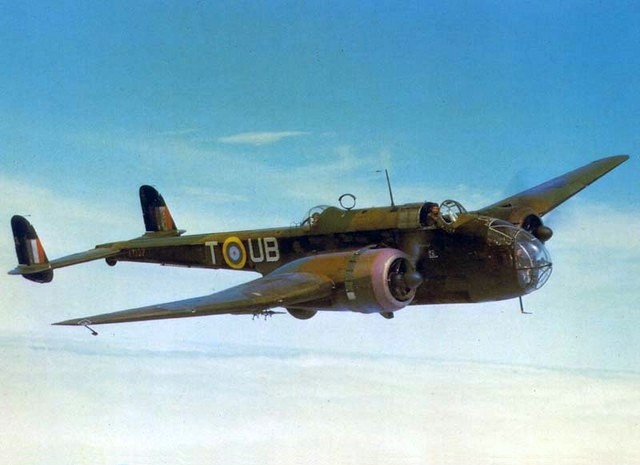 A WWII airman who flew on the bombing raid on Hitler's Eagle's Nest has died, aged 94. Robert Milham Horsley grew up in York and started his RAF career as a wireless operator and air gunner straight after leaving school. He joined No. 50 Squadron in 1941 and flew the twin-engine Hampden bomber on several bombing and mining missions. It was on the first night of what were known as the "Thousand Bomber" raids that Horsley's WWII adventures began.
It was a night in May 1942. Flying Officer Leslie Manser was the pilot of the Manchester bomber; Horsley was the wireless operator. Manser lost control of the aircraft after it became disabled over the target and one of the engines set on fire.
Despite Horsley and one of the other crew members' attempts to jettison equipment in order to lighten the load, the bomber was doomed to crash. Manser, with no concern for his own safety, ordered the men to bail out. The five crew members, including Horsley, jumped with only seconds to spare before the bomber smashed into the ground and exploded with Manser still inside.
The men were scattered. Horsley landed in Limburg, Belgium, and found shelter at a farm, until he was taken in by local resistance. He was reunited with two other members of the crew and all three were taken to Liege. They had no idea that the people helping them were actually members of the Belgian Comet Line, which was an organisation founded by the famous Andree "Dedee" de Jongh, a female Red Cross volunteer who went on to become one of WWII's greatest heroines.
Once the men arrived in Liege they met up with two more members of their crew and eventually were taken to Paris and handed over to Dedee. She traveled with Horsley and one other crew member by train to Bordeaux and on to St-Jean-de-Luz near the Spanish border, so they could safely make their onward journey back to Britain.
All five members of Manser's crew arrived back safely in London, and following a debrief by officers of MI9 they were decorated for their efforts. Horsley received the DFC and Manser was also posthumously decorated for sacrificing his life in order to save his crew.
It was standard procedure that crew members who had received help via clandestine escape lines were not allowed to return to operations in case they were captured and interrogated about their associations with the resistance. Therefore, Horsley was sent to Canada, trained as a pilot and became an instructor. Once the embargo was lifted Horsley returned to active duty and joined No. 617 Squadron in 1944.
Horsley took part in 14 operations in Lancaster bombers. On April 25, 1945, in one of the final and most significant bombing raids of WWII, Horsley flew one of the 359 Lancaster Bombers that were responsible for the attack on Hitler's Eagle's Nest retreat at Berchtedgrden.
After the war Horsley stayed with the RAF on bomber squadrons for five years. He then returned to his role as a flying instructor and was awarded a King's Commendation for Valuable Service in the Air and also the AFC. He spent several years working in intelligence for the Air Ministry, during this time he took part in covert missions.
In 1966 he returned to flying duties and spent four years in Jeddah, Saudi Arabia, as air attaché. On retirement from the RAF, Horsley went on to work for the Foreign Office and spent five years in Beirut. He had to cut his time there short, after coming under surveillance from the Russian and Syrian secret services for allegedly running a major arms deal. He was sent to Italy to lay low. Three months later he was able to leave for Australia, and that's where he spent the rest of his life. Bob Horsley passed away on January 19th, 2016.
Image byBy Royal Air Force official photographer; http://www.ww2incolor.com/gallery/British/aap., Public Domain, https://commons.wikimedia.org/w/index.php?curid=6587004