The Guardian reported on Dark Tourism; a creepy trend that seems to be gaining ground. Some tourists aren't looking for relaxing experiences anymore; now they are traveling to some of the more horrific locations in the world's history.
When you think of vacation spots, you probably would never think of going to the site where a nuclear disaster took place or the home of a serial killer. One of the last places a person would want to step foot in is an execution chamber for a former state prison. You would be surprised that these are, in fact, locations where people travel to in a new segment of tourism called "dark tourism."
The Sacramento Old City Association opened the home of Dorothea Puente, the 1980 serial killer. The grisly tour locates the exact spot in the garden where Puente buried the bodies.
Missouri State Penitentiary opened their doors to the public and showed them the gas chambers that was used for executions at one time.
Fukushima Daiichi is planning on turning the power plant that was once a disaster site into a tourist attraction and destination. Don't worry though, this won't be possible for another 25 years because the radiation levels are still unsafe.
Auschwitz-Birkenau, The killing fields of Cambodia, and Ground Zero in New York are some of the more well-known destinations that are known to fall under the dark tourism category. Dr. Phillip Stone, the executive director of the Institute for Dark Tourism Research at the University of Central Lancashire, describes what dark tourism really is—any travel associated with death, tragedy, disaster, or the macabre. "Take the Flight 93 crash site. Soon after it happened farmers were selling tours of the field. But now there's an established memorial. There's been a process of commercialization from that initial demand to becoming a formal destination."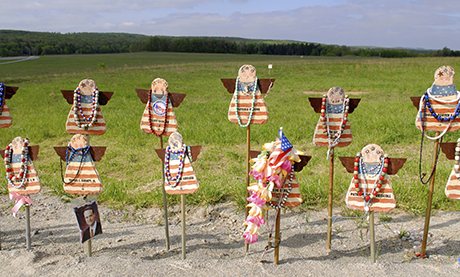 There are other well-known sites of memorial and human tragedy. These are opportunities for travelers to immerse themselves deep into the darker moments of our history where people suffered greatly. Visitors to Vietnam's Cu Chi tunnels which were used during the Vietnam War, are invited to crawl inside the tunnels while the grounds over them are used as a firing range where AK47's can be used. Ina Fassbender shared her experience of spending the night in a former Stasi bunker in East Germany. The bunker museum at Rennesteighoehe offered visitors a chance to spend 16 hours living as though they were a DDR soldier. This included dressing like them and being treated the same way. Some of the "officers" that led the tour were actual soldiers during the Cold War.
The Karosta Prison in Latvia has been turned into a hotel, with a twist. This hotel offers their patrons the opportunity to be a prisoner for a day. In order they cannot get into any legal trouble, patrons are required to sign an agreement stating that they are allowing the staff of the hotel to insult and treat them like a prisoner. The hotel takes it so far that if you disobey an order, you will be forced to do physical exercise or various cleaning assignments.
It was only recently had the behavior of some tourists at these dark tourist locations came under scrutiny. Jason Feifer, a journalist from New York, began to repost "selfies" from the tourists. Feifer created the blog Selfies at Serious Places on Tumblr where these photos can be found.
"I think most people are going to these places with a purity of curiosity," says Feifer, who hoped the blog would start a discussion around the issue. "I work opposite Ground Zero and I watch tourists taking photos. People take selfies there. It's funny. People just want to capture a moment down there and they don't know how to do it."
One of the people who is featured on the blog is 20 year old Jake Fletcher. His selfie was taken in front of the Chernobyl nuclear power station. He says that he didn't regret taking the photograph and that the experience has sparked his interest in exploring other destinations within the dark tourism segment. "Normal beach holidays can't compare to the experience I had at Chernobyl," he says. "It's one of a handful of places on Earth that you could actually call a dystopia. While you're there you do get a strange feeling. I felt a sense of gladness that myself and my family haven't had to experience horrors like those in Chernobyl."
The executive director of an ethical travel campaign group called Tourism Concern, Mark Watson, feels that there isn't a clear cut answer to whether dark tourism is ethical or not. "People go for a huge variety of reasons, so it's very difficult to assess their motivations," he says. "At places like Auswchitz and the Rwandan Genocide Memorial, people go to really understand what happened and are genuinely moved by it. You've got to look at the impact on the communities and understand the local sensitivities. It shouldn't be a case of blundering in and taking some photos."
Regardless of the uncomfortable nature that is associated with dark tourism, it appears that it will be something that many people will engage in at one point or another. "Dark tourism doesn't need dark tourists," says Stone. "It just needs people who are interested in learning about this life and this world."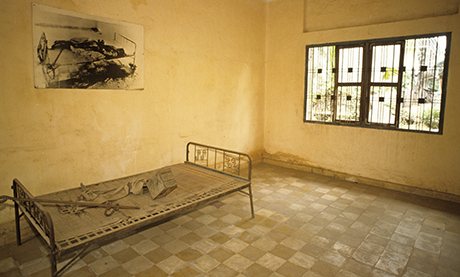 Tuol Sleng Genocide Museum in Cambodia: The former high school was used by the Khmer Rouge to be a prison during the 70s. When you visit the museum, you will walk through cells that still have some rusted furniture. In these cells, approximately 20,000 prisoners were tortured and killed.
Hiroshima Peace Memorial Park in Japan: This park is dedicated to the 140,000 victims (directly and indirectly) of the nuclear bomb that was dropped on the city. The memorial includes some ruins of the building now known as the A-Bomb Dome. This building was the closest building to the center of the explosion that remains standing.
Auschwitz Birkenau Concentration Camp in Poland: The infamous concentration and (ultimately) extermination camp is where nearly one million European Jews were murdered at the hands of the Nazis. Every year, more than a million people visit the site to reflect and remember the tragic events that took place here and all over Europe during the Holocaust.
Hoi An, Vietnam: Tourists that visit the city of Hoi An have the ability to take tours the the site of the My Lai Massacre. This is the place where hundreds of women and their children were murdered by US Soldiers during the Vietnam War.
Robben Island Prison Museum in South Africa: For three hundred years, Robben Island was used to hold political prisoners. This is where the late Nelson Mandela was held for 18 out of the 27 years he served behind bars. The site is now considered to be a symbol of triumph over repression and racism.