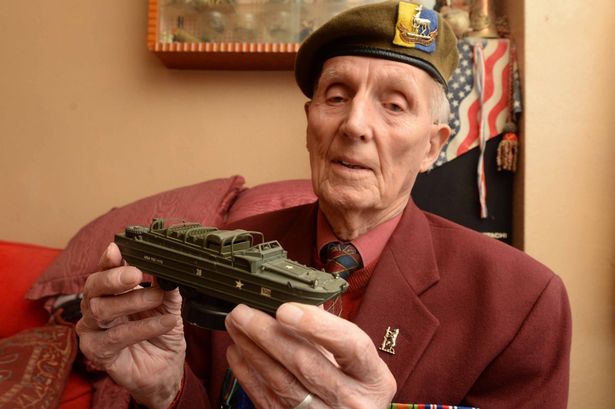 D-Day heroes are returning to the beaches of Normandy 71 years after thousands of Allied troops descended on the French coast.
One veteran, Gordon Hirons from Solihull in the north of England says that he almost comes to tears when he starts to think about what happened on 6th June 1944.
Gordon remembers the immense amount of noise when they landed and smell of detonated grenades and the blood of fallen soldiers.
Gordon and his battalion landed at Arramanches beach. He was just 23 years old at the time. It was Gordon's job to drive one of the amphibious landing vehicles that delivered the troops to the beaches.
Gordon saw thousands of injured and dead soldiers. Records show that there were more than 10,000 injured and over 4,000 dead on that first day.
Gordon and his wife return to Normandy every year to commemorate the landings and remember those who gave their lives in the offensive. This year will be his thirtieth annual trip.
Gordon joined the British Army in 1939 and served in the Royal Warwickshire Regiment. He had been training to be a teacher before the war broke out.
He recalls how people in general thought it would only last a few months and it was a bit of a novelty, particularly for the young men of suburban Britain who decided to enlist.
Not long after joining the army, Gordon was to be transferred to join the Intelligence Corps, but he became ill and had to be in hospital for several months. He had been diagnosed with pleurisy, which permanently damaged his lungs and meant he was no longer fit to join his new Corps, the SolihullNews reports.
Looking back, Gordon says that being ill saved his life, since it was the Intelligence Corps who were parachuted behind enemy lines on D-Day and most were shot by Germans as they descended to the ground.
Thinking about the day Gordon transported the troops he says that first to arrive were the tanks which drove on to the beaches to detonate the mines and clear the way for the troops. It was the tracks of the tanks that the troops could then follow as a passageway onto the shore and beyond.
Gordon remembers a huge café at Arramenche from which the Germans were using to hide and shoot at the Allied troops. Today part of that café is still standing.
The horrors Gordon saw soon come flooding back and he remembers seeing one of the soldiers slipping and being run over by a tank. Gordon says that most of the first two days of the attack consisted of him transporting bodies and the wounded back to medical ships moored in the Channel.