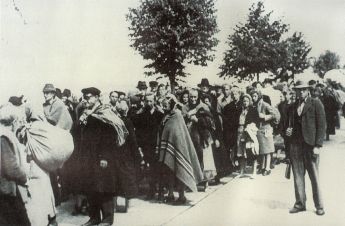 [Via]
Brno, Czechoslovakia's second largest city, has commemorated and apologised for a 'death march' which took place in the city in May 1945.
At the end of World War Two, German people were vilified and expelled from Czechoslovakia. In the city of Brno alone thousands of Germans were ordered to march on foot to Austria.
Today, Brno officials have approved a Declaration of Reconciliation and Joint Future that pays respect to the victims who died in the march.
Brno's Mayor Petr Vokřál has said that his city apologises to the German people, the victims and their relatives for the actions that his city took in the aftermath of World War Two.
Around 20,000 Germans were made to walk the 'death march' march to Austria, and around a tenth of those who marched died during the journey from exhaustion.
The mayor says that now that the Czech people have the knowledge and experience of these historical events that they will never be repeated. He went on to say that people need to aspire to the future with hope and reconciliation.
In an opposite camp, Stanislav Juránek from the Christian Democrats party said that the German people still need to apologise for their actions during the war, and once that is done the people of Brno can apologise for its actions against them.
He says that no one has, to date, apologised for the thousands of Czech people who were expelled from the south Moravia region before the war began in 1938.
Another party against the apology was the Communist KSČM party. It says the Germans were expelled at the end of the war to ensure that no revenge actions were taken against them by the Czech people themselves.
The city of Brno has declared 2015 as the year of reconciliation to mark the 70th anniversary of the end of World War Two, the Prague Post reports.
A reconciliation pilgrimage will be taking place at the end of May and will see many regional officials and local citizens walk from Pohořelice to Brno. The journey will end with a commemorationceremony at the Old Brno monastery.