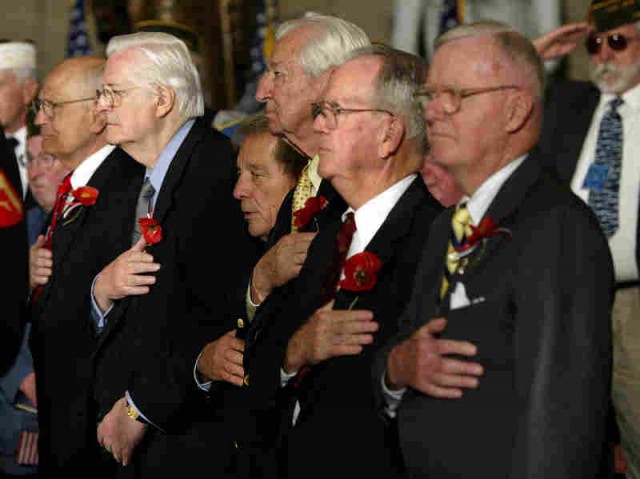 WWII veterans 88-year-old Michigan Democrat John Dingell and 91-year-old Republican Ralph Hall of Texas are both due to leave Congress at the end of the session. For the past seven decades, there has always been at least one WWII veteran serving in the legislation.
Dingell was working as a page in the US Chamber when President Roosevelt delivered his "Day of Infamy" speech after the attack on Pearl Harbor. He enlisted in the military three years later once he turned 18, but he never saw combat. Hall is an old friend of his who is a former Navy pilot. Hall served 17 terms and became the oldest person ever to serve in the House, the NPR reports.
The first of the veterans to serve in Congress arrived even before the war was over.
George Andrews was a lawyer and former district attorney. He ran and lost, but while he was serving in the US Navy at Pearl Harbor, the sitting congressman died suddenly. Therefore, he declared his seat with his wife, Elisabeth Bullock doing his campaigning while he was on the battlefield.
When the war was over a couple of years later, a wave of World War II veterans came to Congress. 70 members of the 1946 U.S. House of Representatives had served in WWII. John F. Kennedy was among them, as well as Richard Nixon and Carl Albert who would later become Speaker of the House. Later in 1948, Gerald R. Ford would enter Congress.
Whether Democrat or Republican, having served in WWII brings a unique influence to politics. The WWII era is coming to a close in Congress, but it will in no way be forgotten.