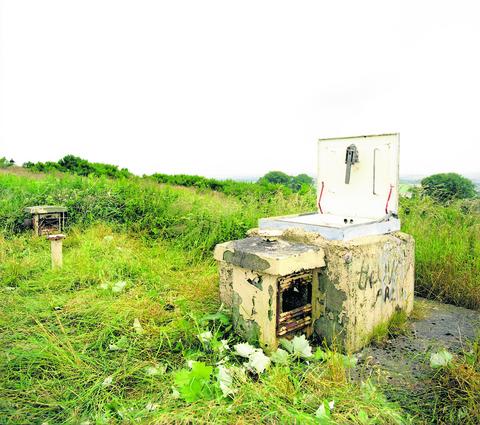 A nuclear bunker has been left to disrepair and vandalism, but could be restored as a reminder of the nuclear Cold War era.
The bunker is in a town called Barrhead, East Renfrewshire around eight miles southwest of Glasgow, Scotland.
High up on a hill, behind the local golf club and down a steep path the bunker's concrete square opening can be seen amongst the undergrowth. The view from the bunker is far and wide, down the valley and across Glasgow's suburbs. Originally the bunker was run by local volunteers from 1965onwards.
The little metal door leads into a small bunker, set up for observation by the Royal Observation Corps. There are many bunkers all over Scotland, since it was the prime location for spotting nuclear bombers that might be heading towards the UK from the Soviet Union.
Once the Cold War ended and the Soviet Union collapsed in 1991 all of the bunkers were closed.
The site has now been abandoned, with rubbish scattering the area. Young people from the local town are using the site for gathering together and drinking. The bunker and its contents were burned away when vandals set fire to the site, and so it is now completely shut and the door welded down.
The external features all remain unbroken with just paint work peeling off and a dome that covers the ventilation shaft,suggesting the bunker was a master post.
Prior to the fire, a report from the site took an inventory of the contents. The bunker had obviously been abandoned and was left in disarray. Items left included, tables, chairs, storage, bunk beds, fuel containers, training manuals, clothes and kitchen equipment and canned foods.
But by 2005, a follow up report indicated that an internal fire probably caused by vandalism had wiped the bunker out, with severe damage. Two years later the hatch opening to the bunker had been welded down to prevent access, probably by local authorities, the Barrhead News reports.
Many of these bunkers located across the UK have been restored to tell the story of the Cold War and allow visitors access. There are no plans at present to bring the Barrhead bunker back to its original condition; however it acts as a reminder of the constant threat of a possible nuclear attack during the détente of the Cold War.