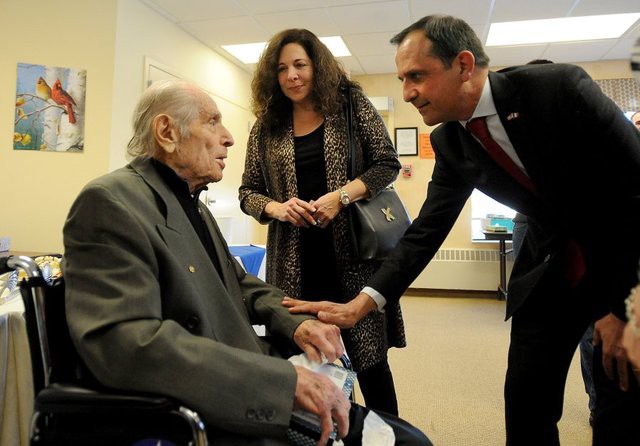 A World War Two veteran who took part in the D-Day landings has been honored by the French government with the Legion of Honor at the age of 100.
Leonard Goldstein from Chicago, was one of the hundreds of Allied troops who stormed the beaches of Normandy on the northern French coast more than 70 years ago.
The award ceremony was led by the French consul general in Chicago, Vincent Floreani, at Barrington. Mr Floreani thanked Leonard and all of the American soldiers who had made the ultimate sacrifice to save France and Europe from the Nazi regime.
Mr Floreani pinned the Legion of Honor medal to Leonard's chest as part of the ceremony.
France has been honoring many of the surviving veterans of World War Two and especially those who played a role in the liberation of France. Mr Floreani says it is a fitting tribute to the survivors and to all of those who were unable to return.
The Legion of Honor is France's highest military honor and was first started by Napoleon Bonaparte in the early `1800s.
Leonard joined the US Army as a rifleman for the 4th Infantry Division. For the D-Day landings, Leonard's role was to provide cover and defense for the thousands of troops landing on the beaches, the Chicago Tribune reports.
Leonard was injured just a few days into the invasion of France, during a night attack by the Germans. He was taken back to England to recover in hospital and remained in Britain for the rest of the war serving as a driver.
Leonard has also been awarded the Purple Heart.
Leonard's family say the honor has a significant meaning for everyone close to Leonard. His daughter Janet says he has been so excited to receive the medal and has not looked happier than when he was receiving the honor.
Leonard did not talk about the war much, but he did talk to other local veterans in the area. Then later in his life Leonard and his son would sit for hours and talk about what he experienced during those years.
The D-Day landings took place in June 1944. It was the Allies central attack plan to liberate France and push the Germans back eastwards.
After an all-night aerial and naval bombardment on the coast, 24,000 Allied troops were deployed to the beaches of Normandy. Around 4000 Allied troops were killed on the first day of the attack alone.