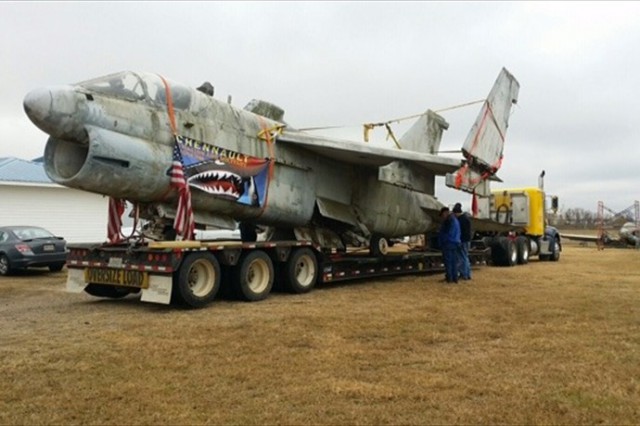 The Chennault Museum in Monroe, the eighth largest city in Louisiana, is now home to an A-7 E-model Corsair 2 jet used by the US Navy during the Vietnam War. The aircraft was discontinued from service in 1991.
The aircraft is being housed and exhibited at the Chennault Aviation and Military Museum, on loan from the National Naval Museum in Florida. The Chennault museum is based at the World War Two Selman Field Army Air Force Navigation School in Monroe. Louisianahas long played a key role in America's aviation and military history, with numerous airfields located in the state.
The journey took two days for the plane to be transported from Los Angeles where it was being kept to Monroe. The Chennault museum is excited to have the aircraft on loan since it had in recent years been overlooked and was possibly heading for the scrap heap. But the museum wanted to use it as part of its Vietnam War memorial.
The plane was used to support the troops, shipping ammunition to the battle ground and transporting ground troops. However, its main use was to drop bombs directly on targets helping the mission on the ground. The aircraft can carry up to 20,000lbs of weaponry and ammunition, including bombs and rockets, the myarklamiss.com reports.
The museum is sharing the story of how the country's veterans fought the war in its Vietnam War memorial exhibition and is using the aircraft to tell part of that story. Volunteers and war enthusiasts are going to be cleaning and restoring the plane to its original appearance, so that visitors can get a real-life feel for the aircraft used during the war.
The plane is hoped to be restored and on display in the museum's aircraft exhibition by summer 2015.
The Chennault museum is directed by Nell Calloway, grand-daughter of General Chennault. Lieutenant General Claire Lee Chennault was a much revered US Air Force pilot. He led the 'Flying Tigers'and the Republic of China Air Force during World War Two. The Flying Tigers were a total of three US-funded fighter squadrons, assigned to the mission of protecting China against Japanese forces.
The museum is taking on volunteers and accepting donations to support the Vietnam War memorial. If you want to get involved or to donate, contact the museum directly: www.chennaultmuseum.org