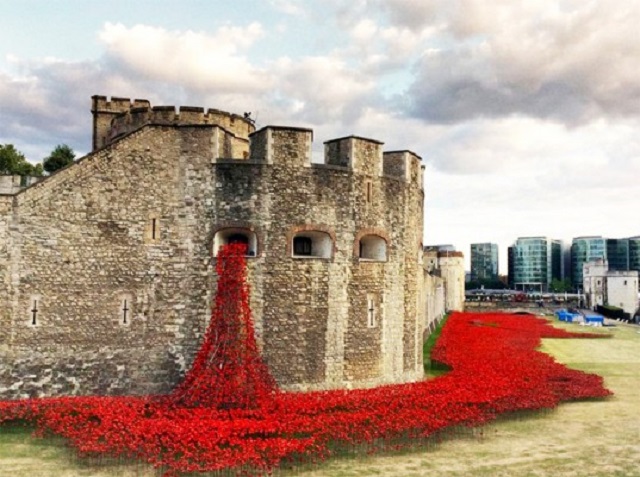 The Tower of London is currently host to hundreds of thousands of ceramic poppies, in honor of the fallen British heroes of the First World War. This is a large project, with at least three days required in the creation of each flower, with close to three dozen people each handling their own sets to ensure the project's completion. Once they are all finished, the ceramic poppies will go on sale.
The project is being handled by artist Paul Cummins, and about fifteen percent of the project has been completed already. Those that have been completed have been planted around the outside of the Tower of London, creating a bright red field around the outside walls. The plan is that by Armistice Day, all of the intended ceramic poppies are to have been created and planted. They will all be sold, raising millions of dollars for charitable organizations related to the armed forces. With nearly nine hundred thousand British deaths having been accumulated during the First World War, this project will colorize the bulk of the landscape surrounding the Tower of London.
This project is accompanied by another event which is being hosted at the Tower of London in honor of those who died during the First World War. Every night at sundown, a speaker will stand in the field of ceramic poppies, list in hand. They will specifically be standing at the site that new WWI recruits were sworn in, and they will be reading a list of those who died during the conflict. This list will include nearly two hundred names each night, and a different list will be read every night until November 11, the Mail Online reports.
While not every single fallen soldier will be read aloud from these lists by the time this event is over, they will all be represented in the art project headed by Paul Cummins. Each of the ceramic poppies is crafted carefully by hand, with petals cut out from large clay sheets and then arranged to look as realistic as possible. Once the clay is properly dried, a pinkish glaze is added that turns into a bold, bright red color after the flowers are set in the kiln. These flower heads are then welded onto long metal stems so that they can be planted.
The ceramic poppies only cost about twenty-five British pounds, so anyone can contribute to this charitable event. A great amount of work and care has gone into each one, ensuring that they can look beautiful despite the large number (over fifty thousand) that need to be created every single week. So far the project appears to be on schedule, so all of the ceramic poppies should be finished just in time for Armistice Day.