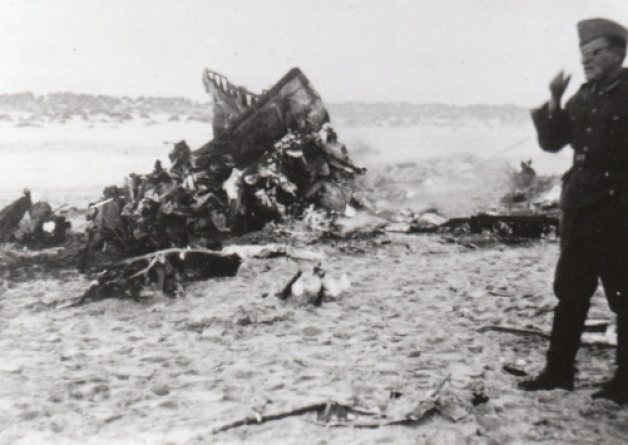 Chris Ward, author of Bomber Command, is calling on the Guardian readers who might have information regarding the death of the man, or who could help with the research, which is being carried out by a German colleague of his. He has almost finished writing a book about the Second World War airmen resting in the Den Burg Cemetery on the Dutch Frisian island of Texel.
Flying Officer Edward Watson Skirrow is only one of the 100 airmen buried there. He was born in Morecambe and lost his life in July 1943, when he was flying with the  4 Army Co-operation Squadron in a Mustang. The date of his death, which listed on the Morecambe memorial was identified as incorrect. Author Chris Ward is now trying to find the family of this brave man and he thinks some of his relatives are still in the area. Chris' German friend has provided pictures of the crash site and others of the German aircraft Skirrow shot down before he was killed by flak from Texel, the Lancaster Guardian reports.
To be able to finish the book, Chris' colleague need a photograph of  Flying Officer Edward Watson Skirrow and as much personal information as he can possibly collect in the time left. Chris also believes that the family and relatives might not know much about his death and he would love to be able to share this story, for people in the area to remember this hero.
John William and Sarah Skirrow were Edward Watson Skirrow's parents and they lived in Morecambe with Edward and his two brothers and sister. When he died, he was serving in the Second World War, with  No 4 Army Co-operation Squadron. The only information Chris has about this man is that his aircraft crashed at  De Hors on Texel after taking off from Bottisham at 19.45. He shot down a Dornier 24 rescue float, which burst into flames and hit his Mustang, which also crashed at 20.55. According to the 4 Squadron operations folder, the other Flying Officer piloting a Mustang alongside Skirrow, Eaton, continued his patrol and returned to base at 21.45.
* Anyone who can assist Chris with his search for information should email him at squadprof@hotmail.com.
//