The Commemorative Air Force (CAF) Red Tail Squadron, America's tribute to the Tuskegee Airmen, recently wrapped up their annual cross-country tour of the RISE ABOVE Traveling Exhibit, participating in 36 events in 16 states over 10 months. This marks five years since the Traveling Exhibit was launched to share the history and legacy of the Tuskegee Airmen with audiences across the country. In that time span, over half a million people have experienced a compelling and inspirational piece of American history delivered by this unique educational outreach vehicle.
The RISE ABOVE Traveling Exhibit is a fully functional mobile movie theater housed in a climate controlled 53' semi trailer that is deployed to events around the country. This immersive experience inspires and educates audiences about the Tuskegee Airmen, our county's first black military pilots and their support personnel, and the obstacles they had to overcome to serve their country during World War II. Because of its dynamic 160-degree panoramic screen, the film creates the feeling of being in the cockpit soaring above the clouds in the P-51C Mustang – the signature aircraft of the Tuskegee Airmen. View a preview here.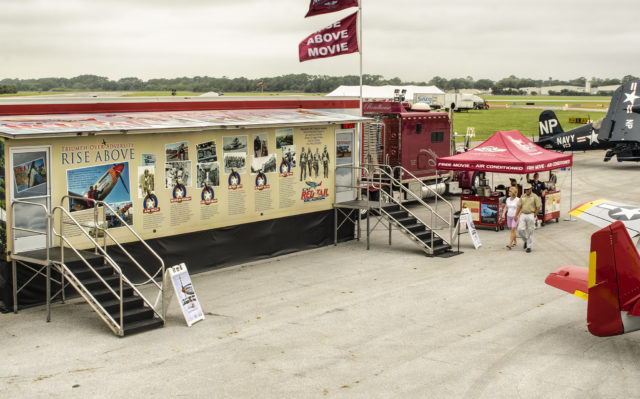 "The five-year mark is an important milestone for us," said Kristi Younkin, CAF Red Tail Squadron logistics coordinator. "We've visited 36 states since the inception of this key component of our educational outreach program. Our goal has been to bring the important message of the Tuskegee Airmen to audiences in every state of the continental U.S., and welcoming over a half million visitors to the RISE ABOVE Traveling Exhibit is exciting and emboldens us to work hard to bring the lesson of the Airmen to new communities and events."
For further information about how to bring the CAF Red Tail Squadron's RISE ABOVE Traveling Exhibit or P-51C Mustang Tuskegee Airmen to your community, event or school, contact Younkin at logistics@redtail.org or (479) 228-4520. Go to redtail.org to find out more.